Last week, I traveled with the Foundation that sponsors my blog on a tour of the Lower Colorado River. I've got plenty of pictures which will be the subject of numerous photoblog posts to come in the future. The tour begins in Las Vegas and ends at the Ontario Airport, so I drove to the airport and flew to Las Vegas. Here are some of the pictures that I took from the plane.
This is the San Gabriel Reservoir. State Route 39 travels up the side of it. When full, it can impound about 44,000 acre-feet. It is used primarily for flood control and water conservation.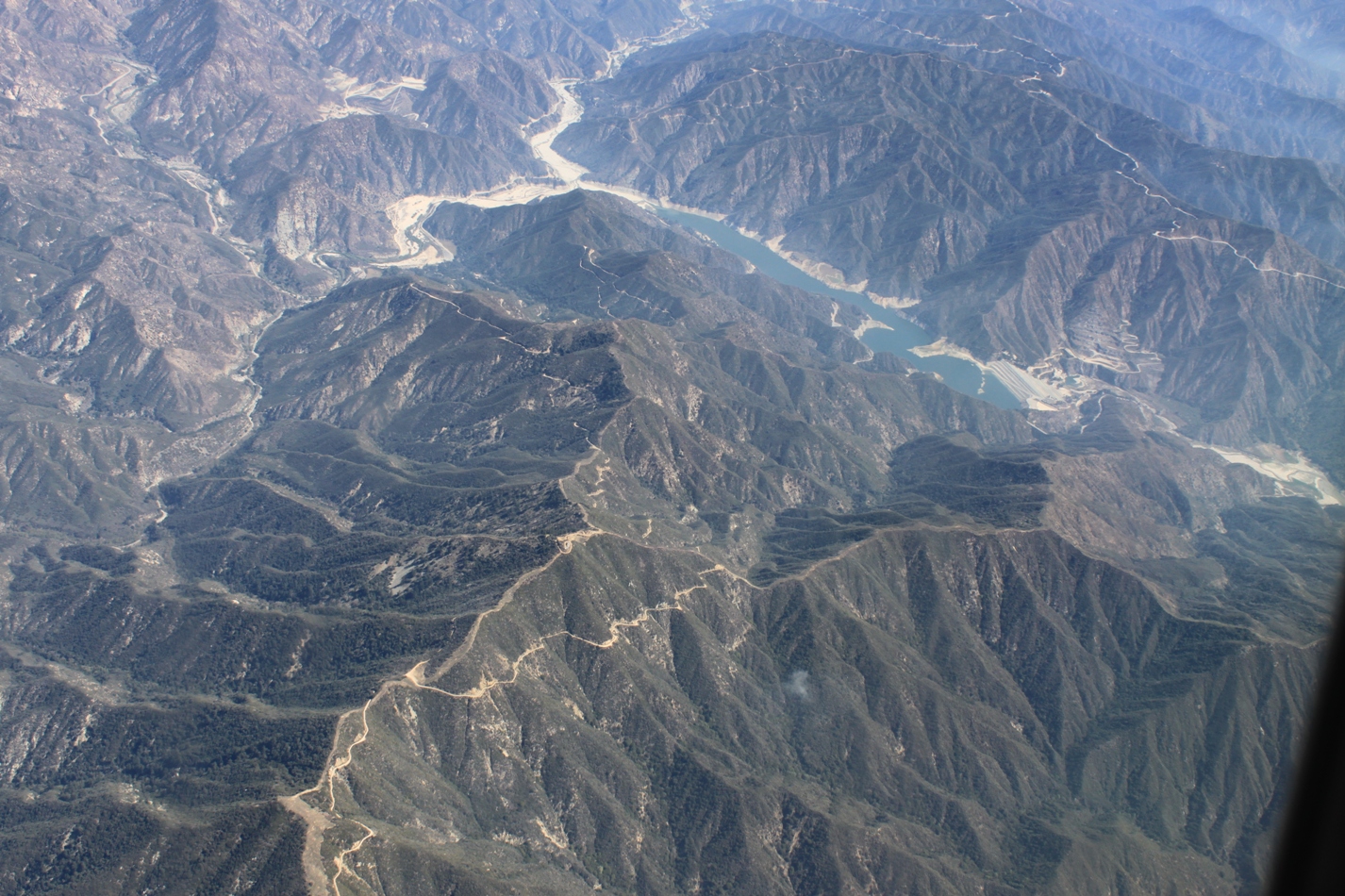 Here is the San Gabriel Reservoir again, with the Morris Reservoir right below it.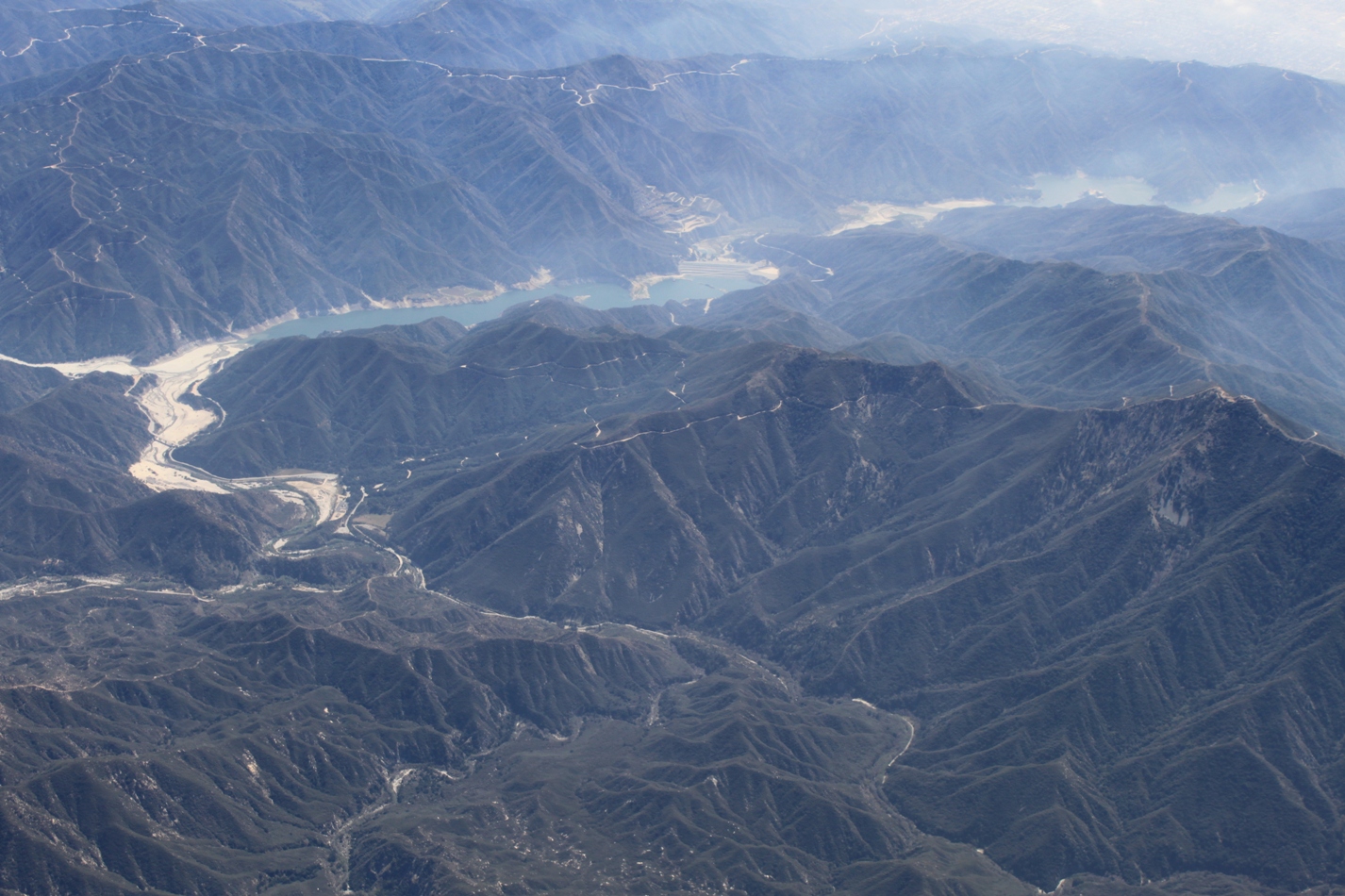 The weak winter we've had means there's been little snow in the local mountains, so Mountain High's snow-covered runs really stood out …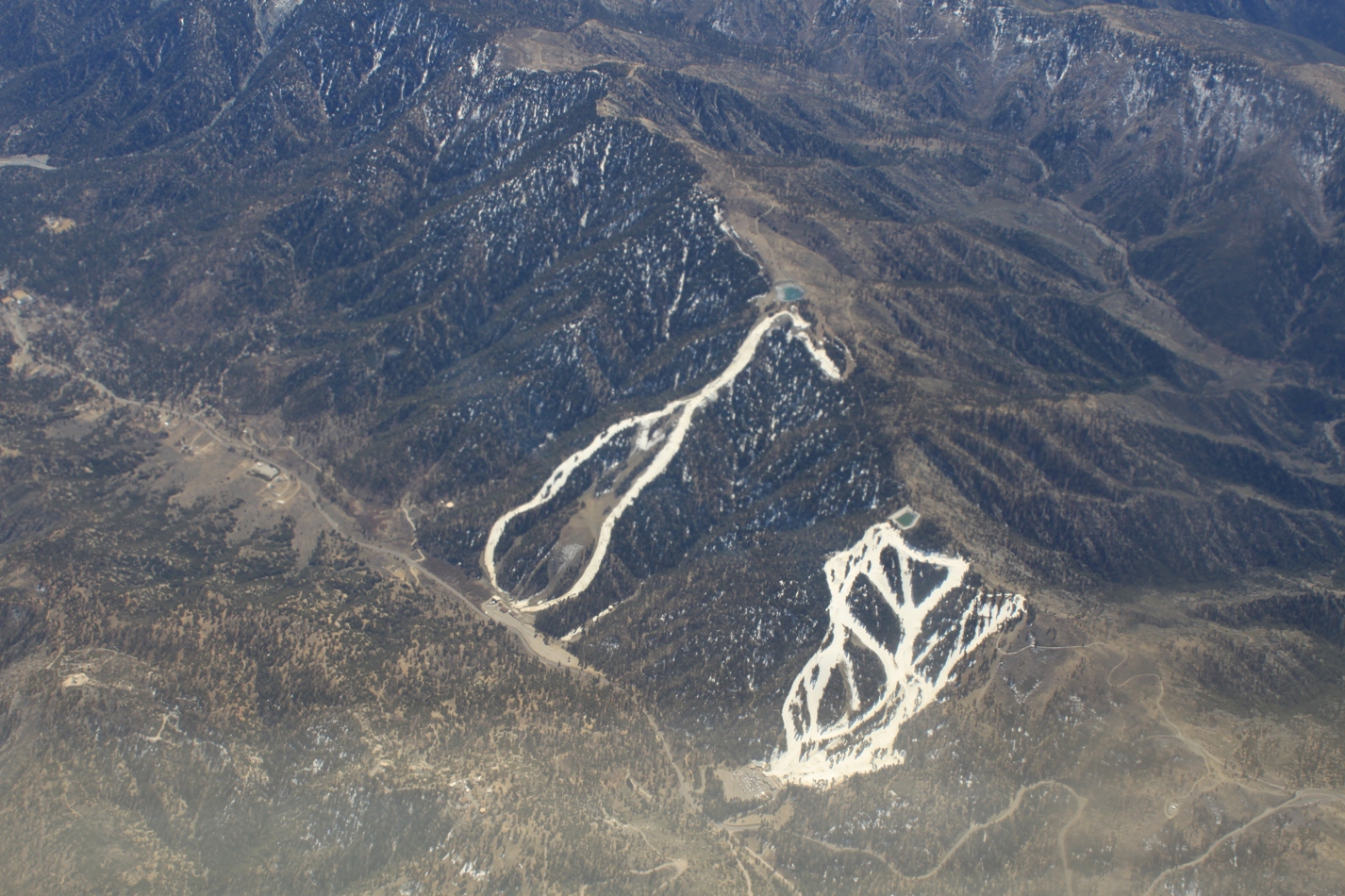 The San Andreas Fault runs right through the town of Wrightwood, which is located in the middle of a fault-controlled valley.  Valleys carved by glaciers are more U-shaped and valleys that are carved by rivers tend to be V-shaped, but fault-controlled valleys are straight and narrow.  Here, the fault is grinding the rocks together, which creates a weakness that is eroded more easily than surrounding rock, resulting in a long, straight and narrow valley.  It's hard to perceive it on the ground, but is easily seen from the plane.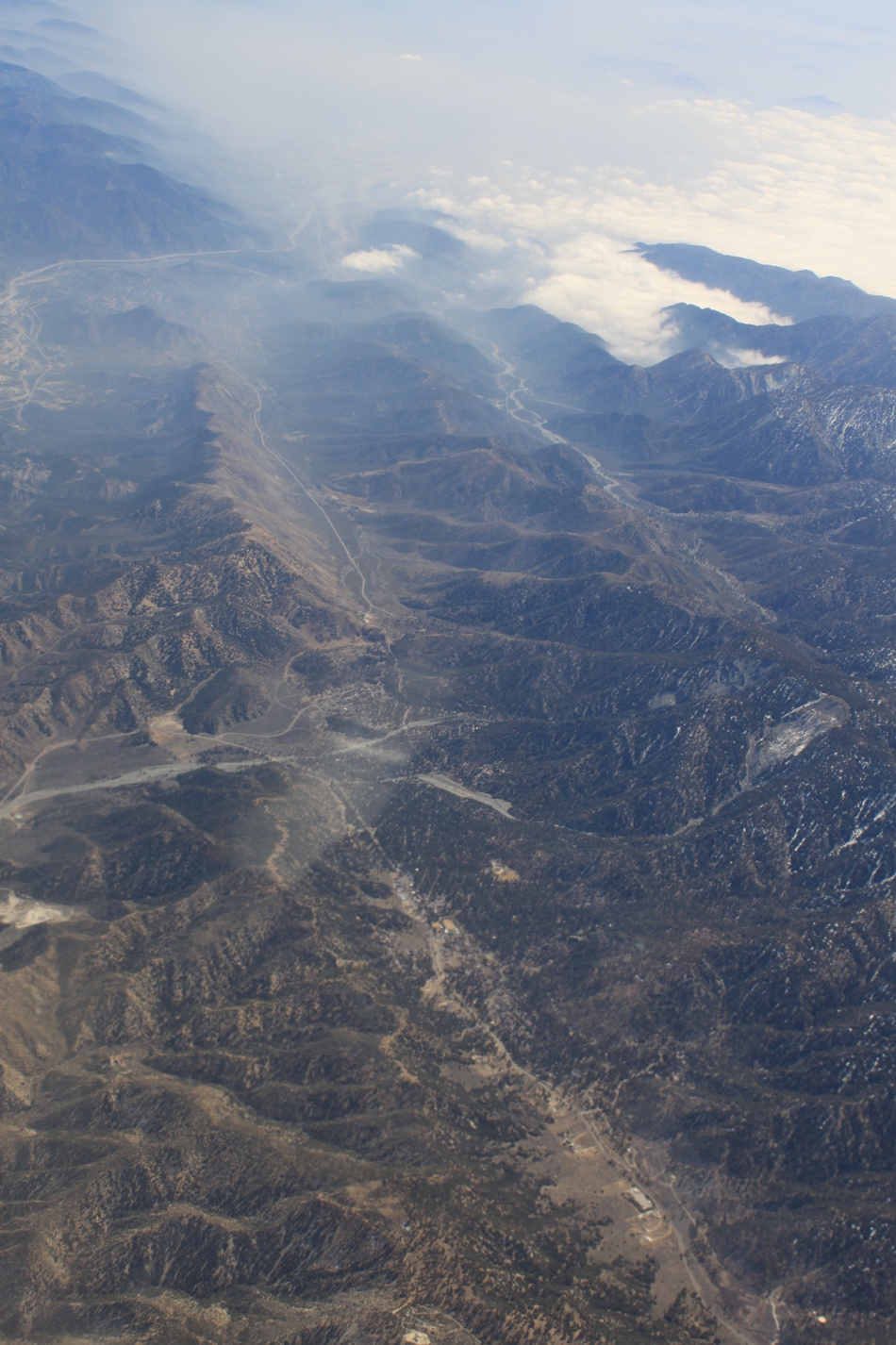 Here's another view of the fault.  Wrightwood is at the bottom, the El Cajon Pass is at the top – that's the I-15 coming through the pass headed to Vegas.  For more on the fault around Wrightwood, check out my photoblog post: Features of the San Andreas Fault near Wrightwood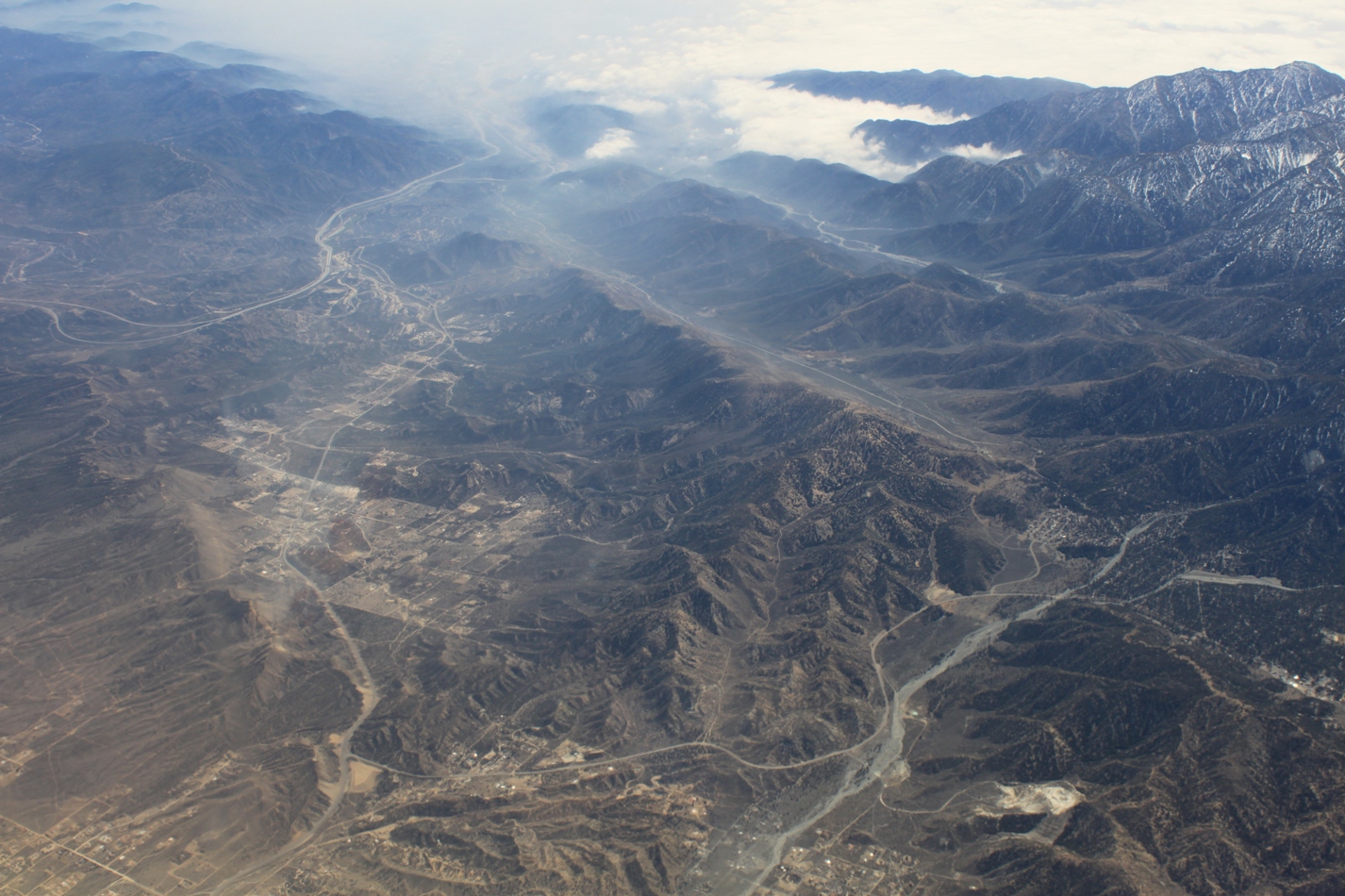 Below, the California Aqueduct cuts across the valley near Hesperia, on its way to Lake Silverwood, visible at the end.  The lake towards the left is Lake Arrowhead, I think.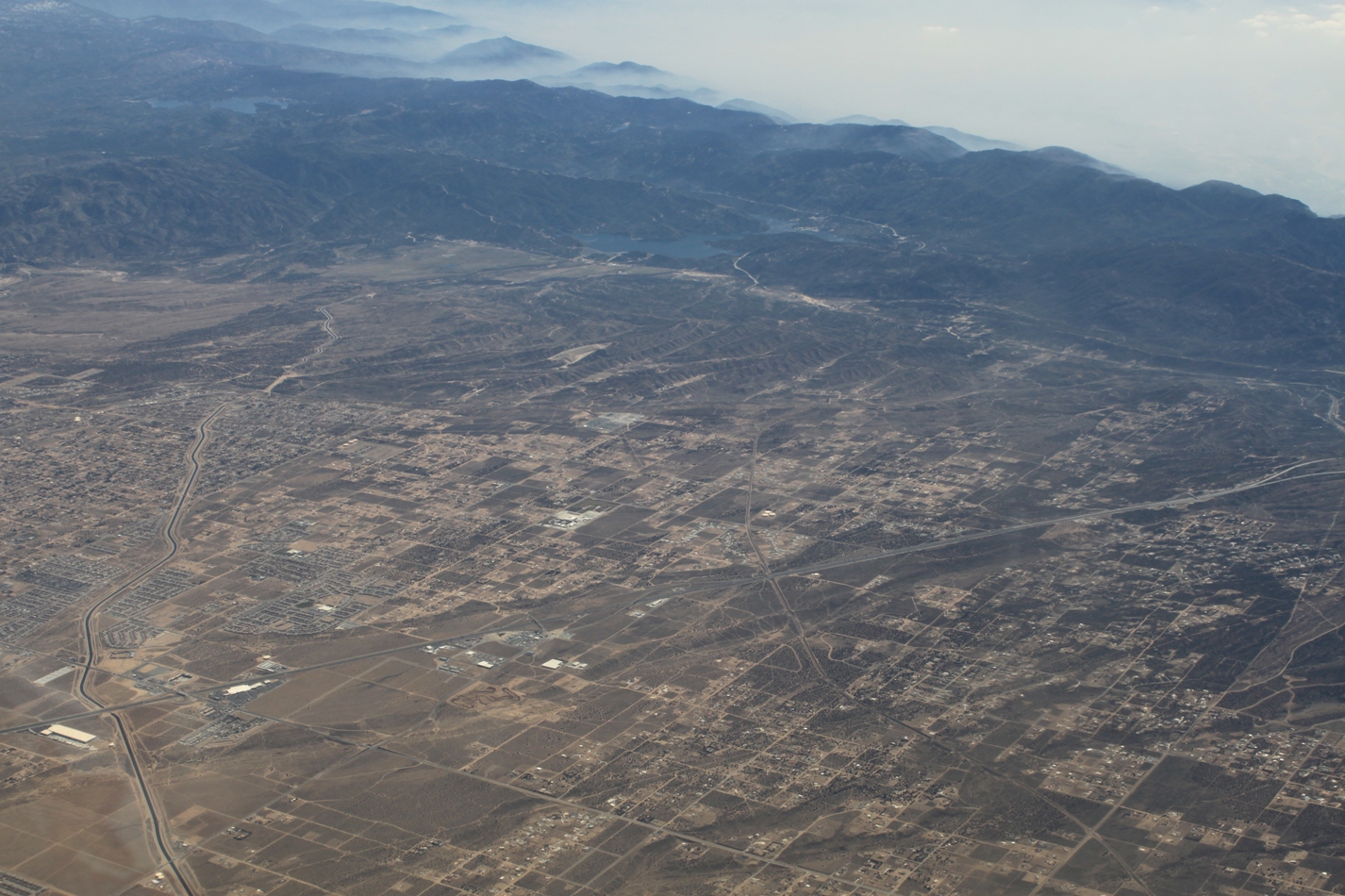 Here's the desert floor looking up toward Big Bear Lake.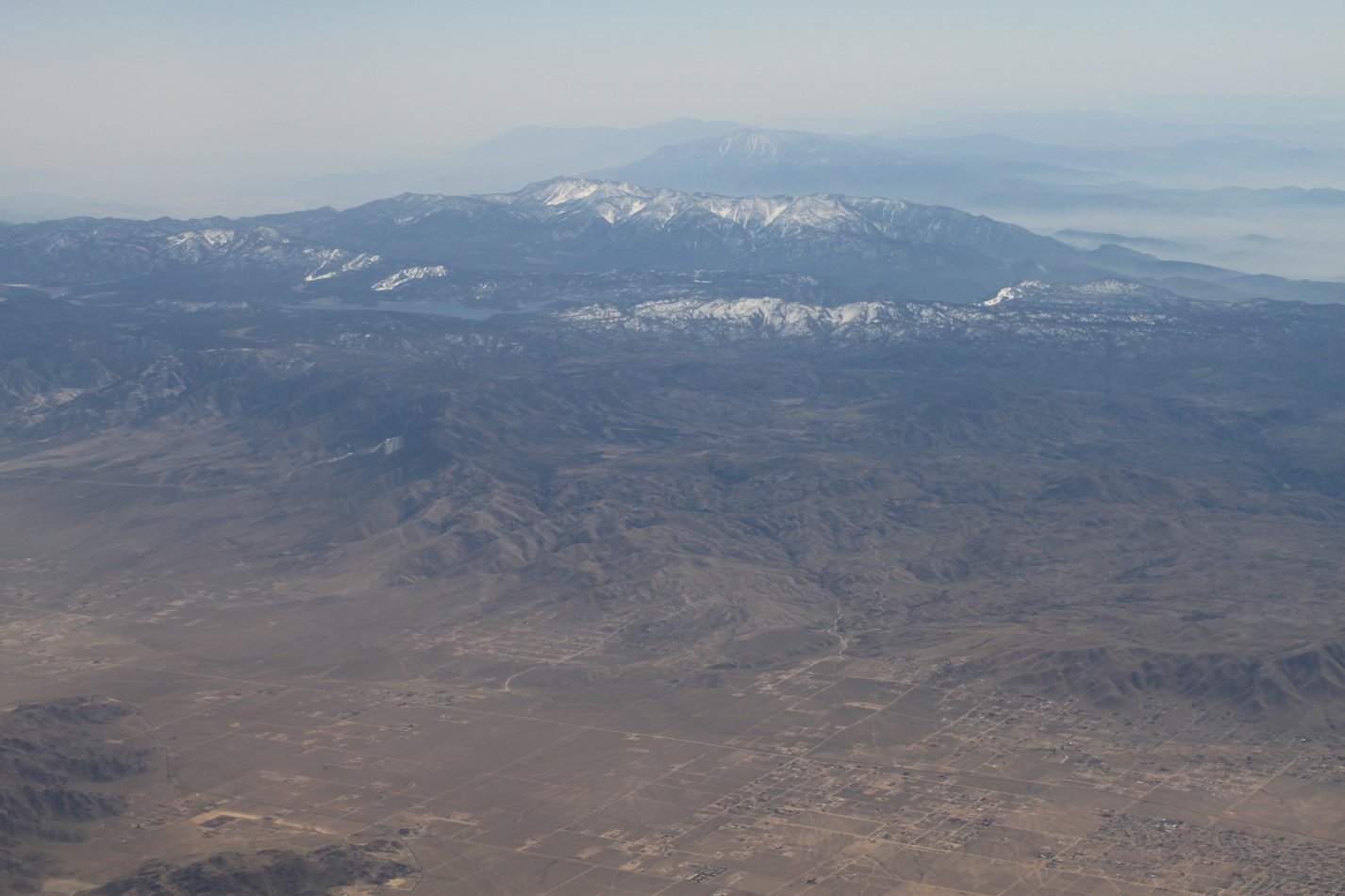 Here are some shots of the Mojave desert floor …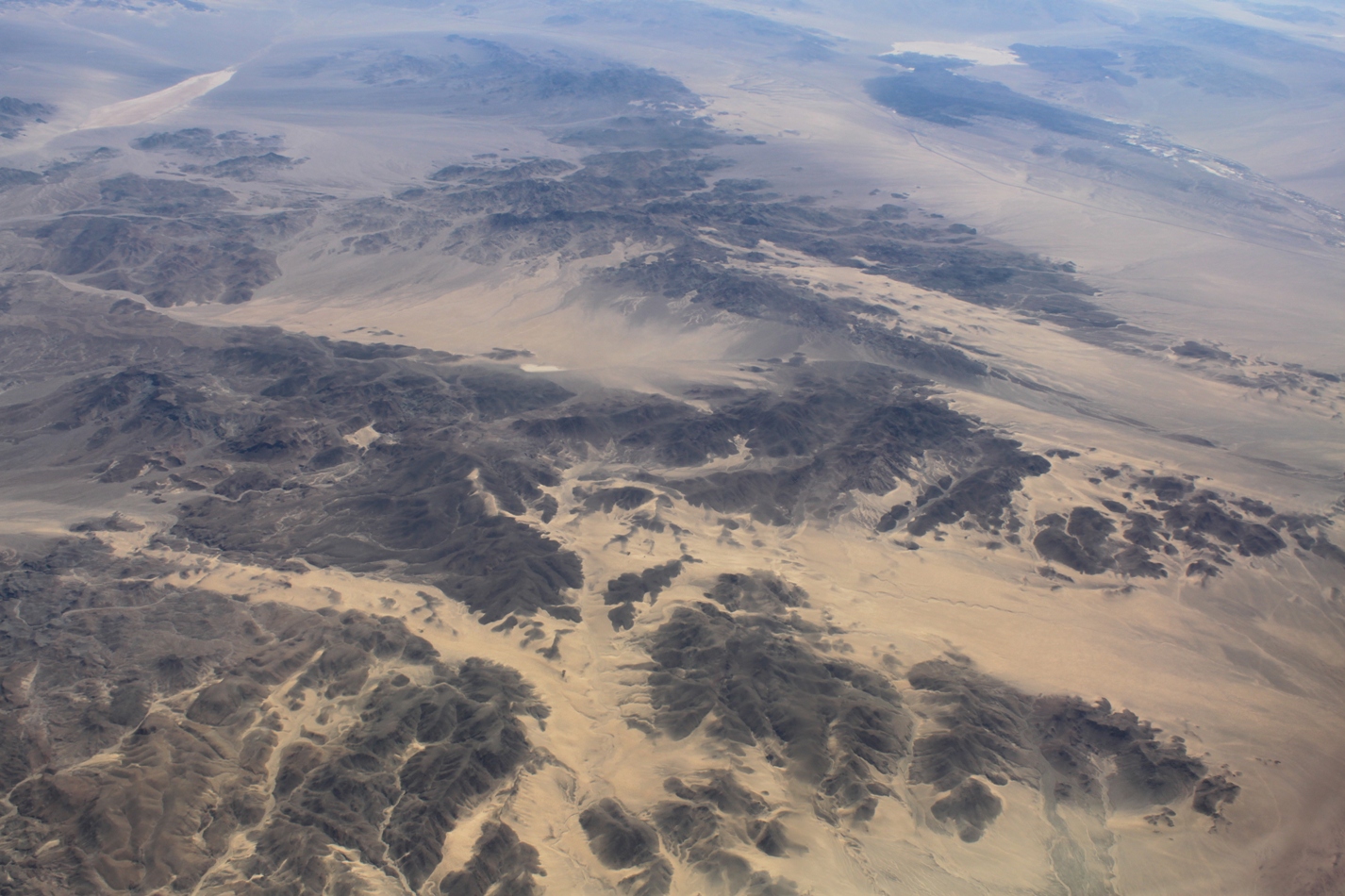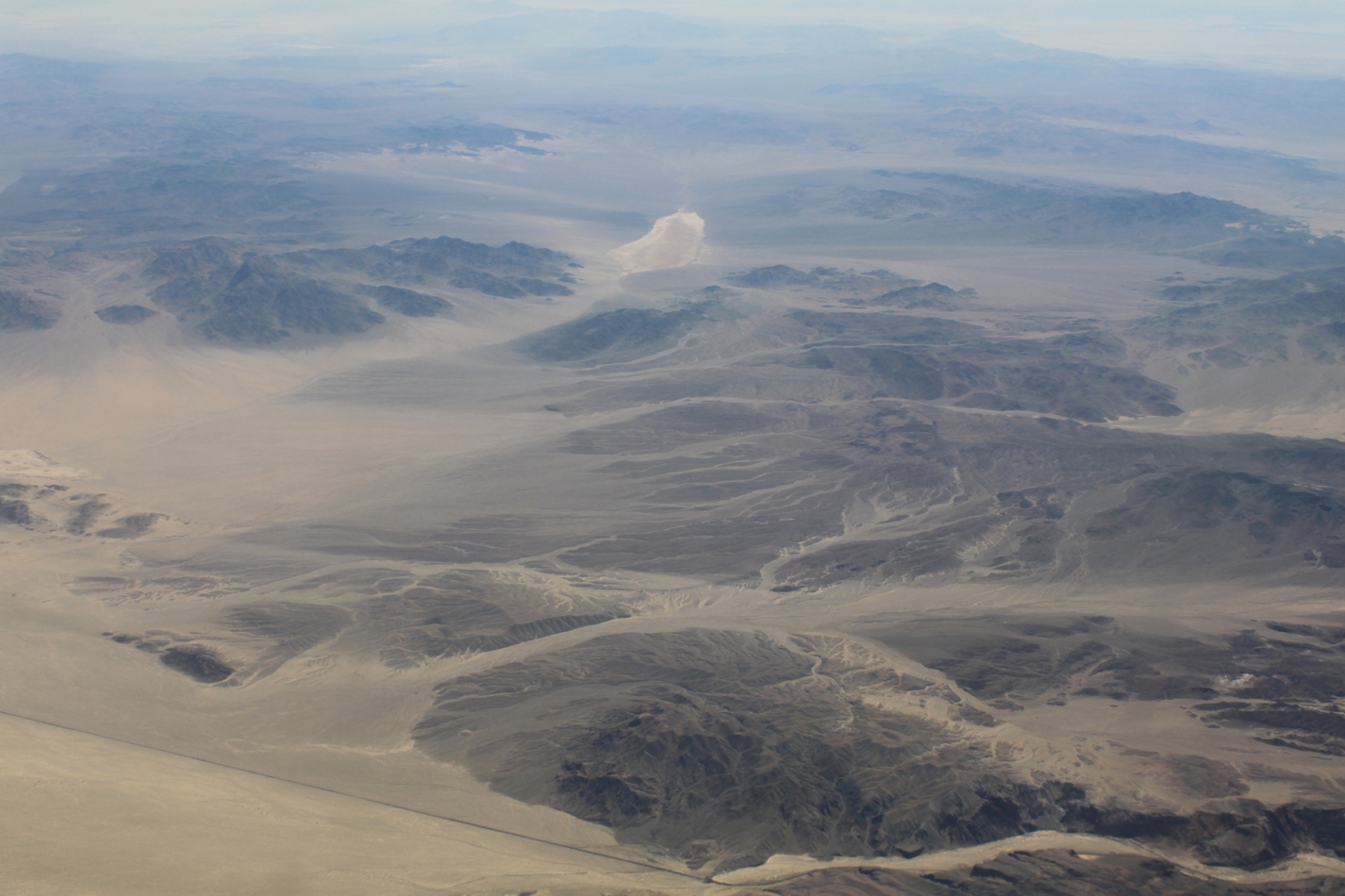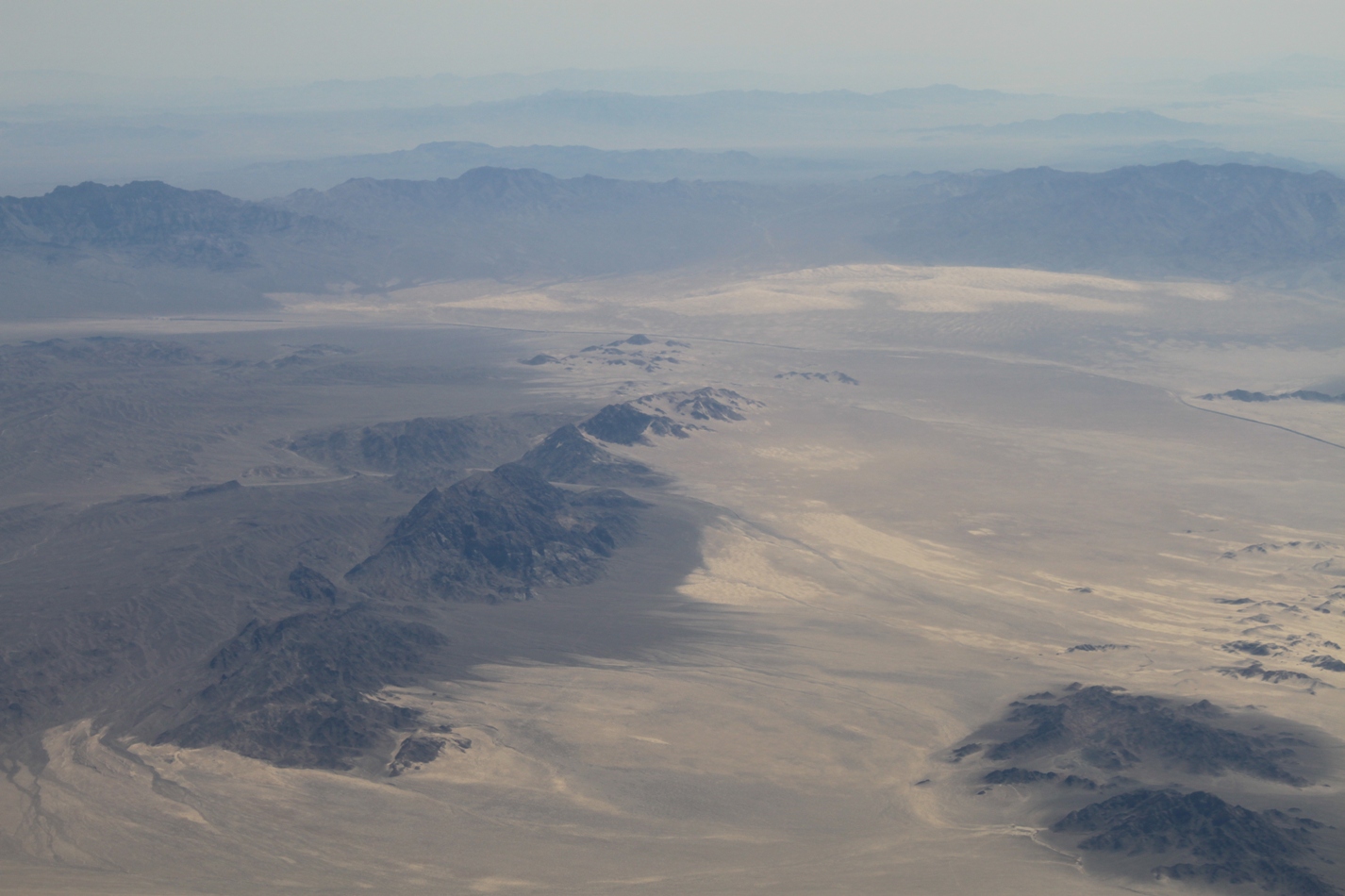 Soda Lake is the end point for the Mojave River; we visited the area back in the fall, driving down the mysterious Zzyzx Road on a road trip.  Zzyzx Road follows the ridge of mountains on the lower right.  You can check out what this area looks like on the ground in the post, Zzyzx Road and the Mojave National Preserve.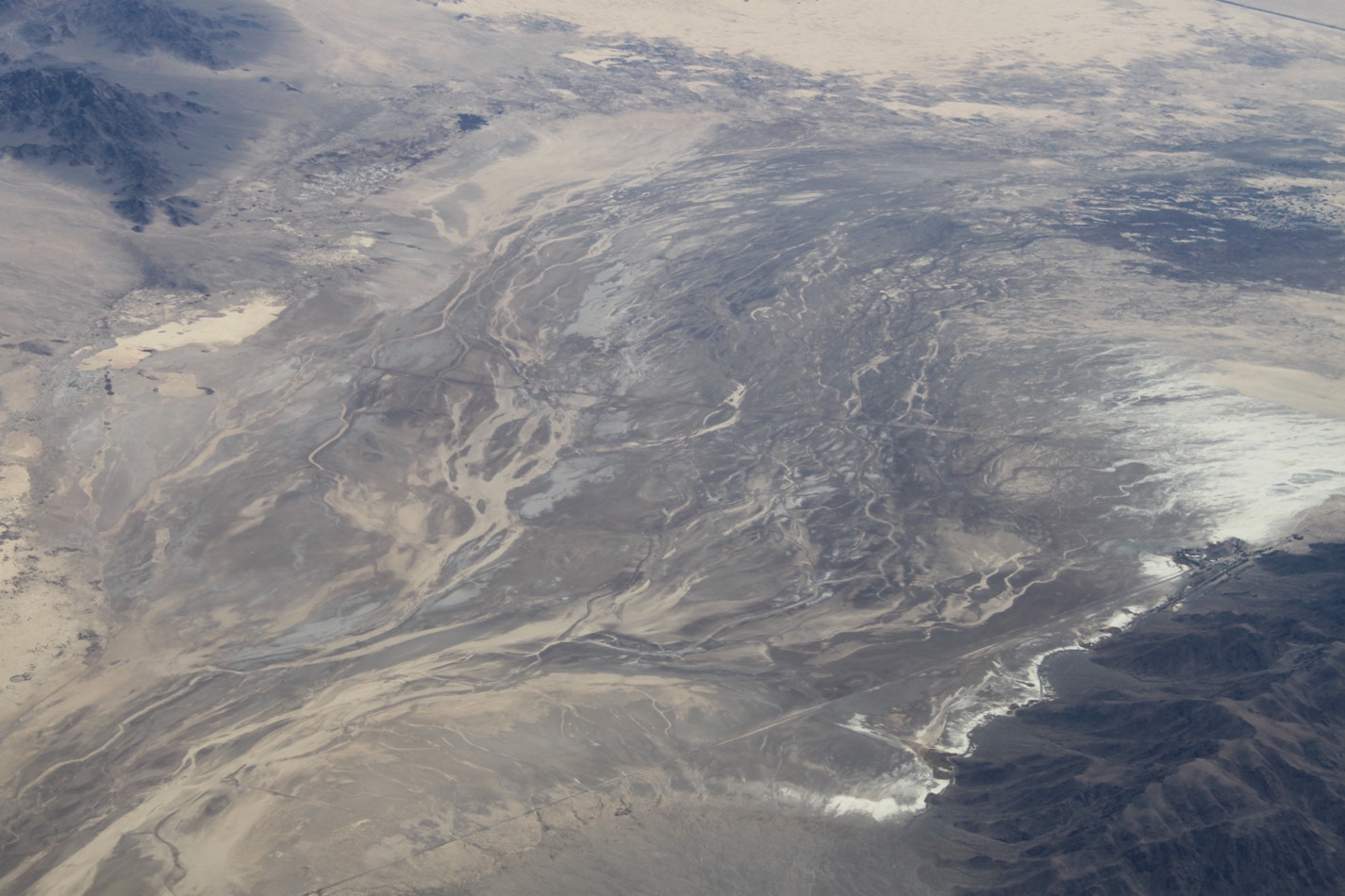 Here are some shots of the landforms as we were coming into Las Vegas …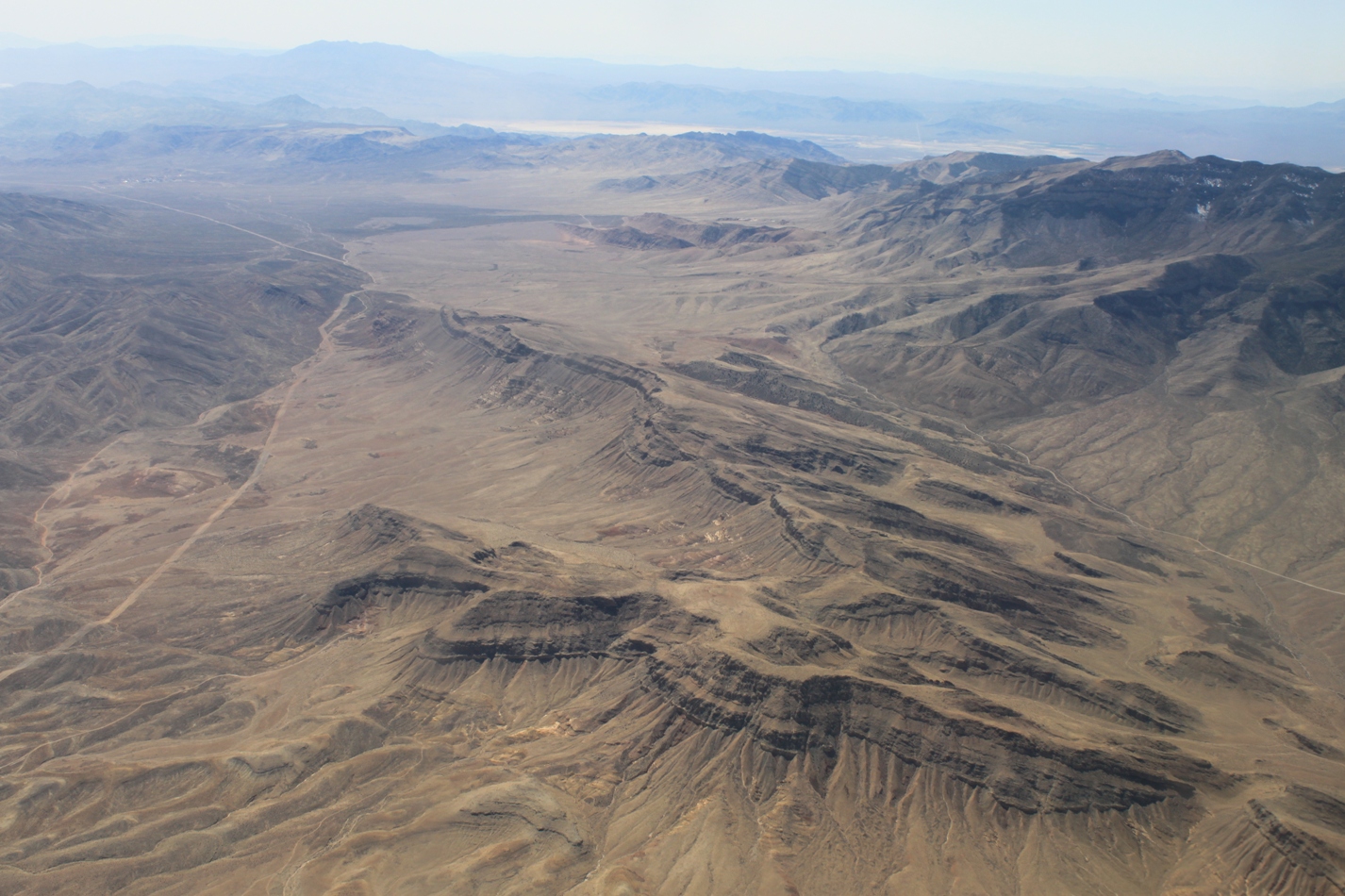 and here is Lake Mead – which we visited on our tour.  More on Lake Mead to come.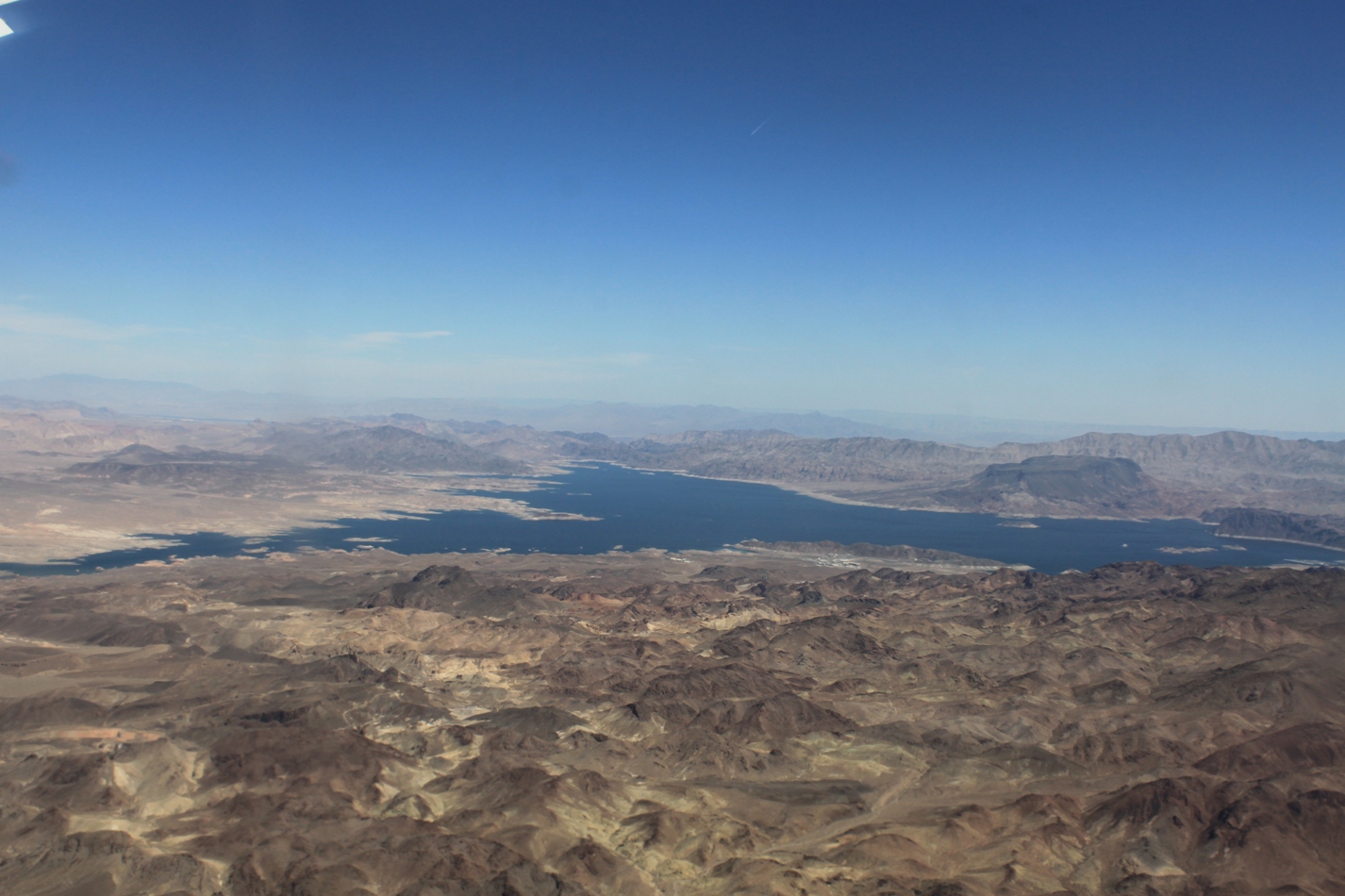 And finally, this shot – one of the last as we were coming in for a landing.  I've got to go back and see what this area looks like on the ground.  I bet this is the area known as Red Rock Canyon, but I'm just guessing there.