One of my most favorite things to eat in the world are artichokes, and so I was excited to have the chance to drive through Castroville, the Artichoke Capital of the World! And as a bonus, at the end, I'll even give you my special recipe for artichoke pasta – a family favorite!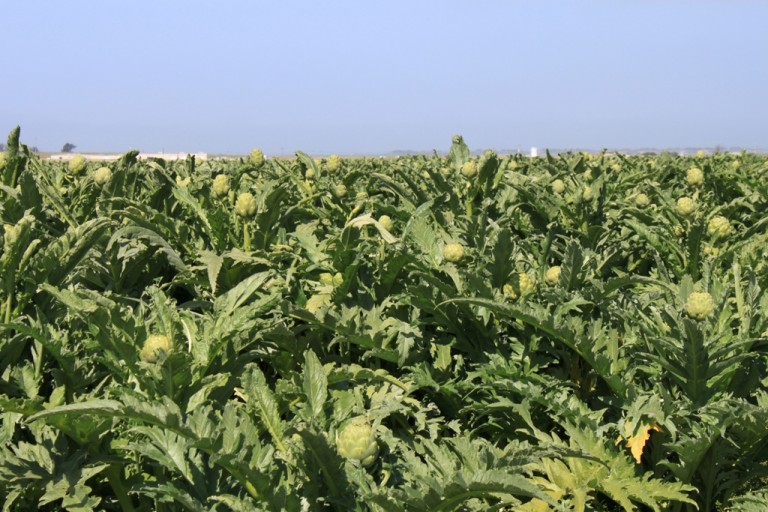 I love the wacky way artichokes look, growing in the field.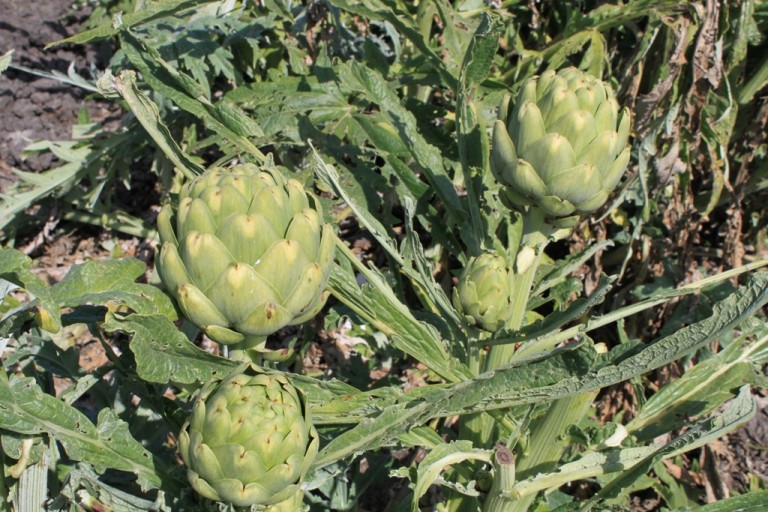 Nearly all the artichokes grown in the United States come from California, and most of them from right here in this area.  Ideal growing conditions for artichokes are cool and moist summers with mild winters.  The Central Coast has plenty of that – as long as you are not too far inland.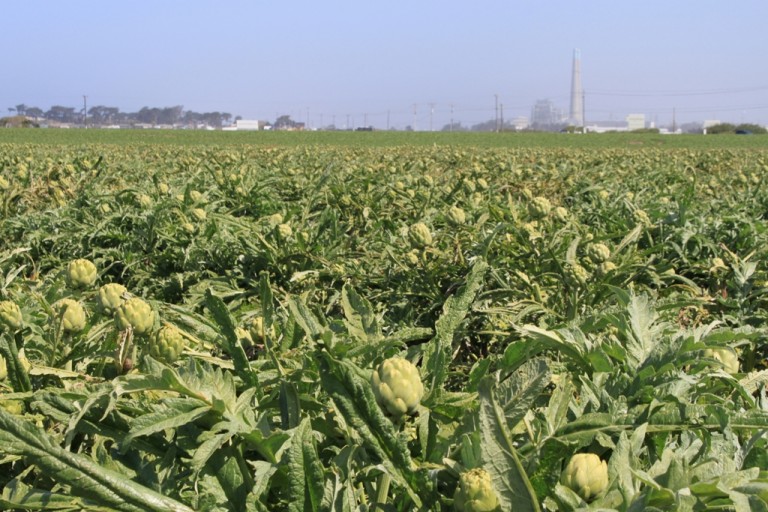 The part we eat, the heart, is actually the flowering part of the plant, and if you let the artichoke grow, it turns into the most incredibly beautiful flower.  That is not my picture by the way – that picture is by flickr photographer Trys, because I can't grow artichokes at my house (it's way too hot), and if I did, I'd probably eat them :-$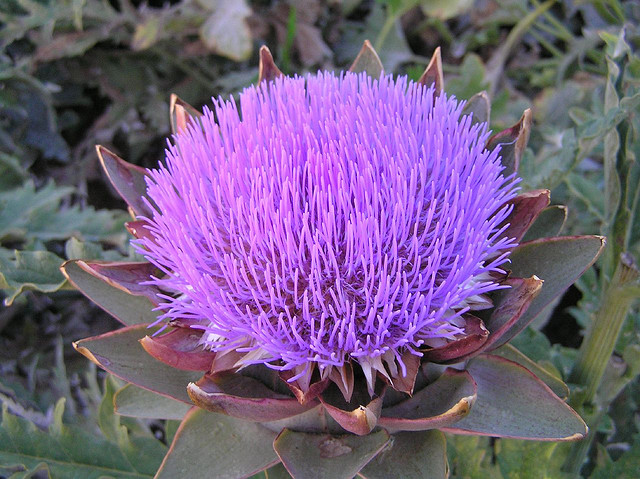 Castroville's proud of it's artichoke heritage …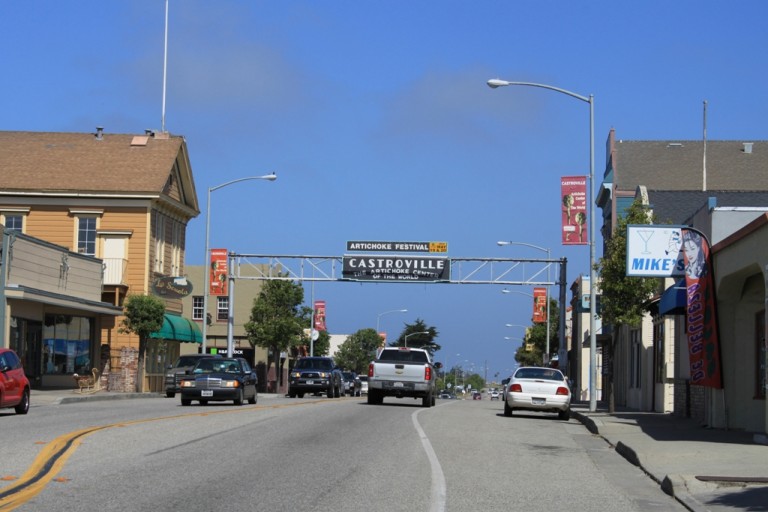 They host an artichoke festival every year.  (Click here for the artichoke festival website.)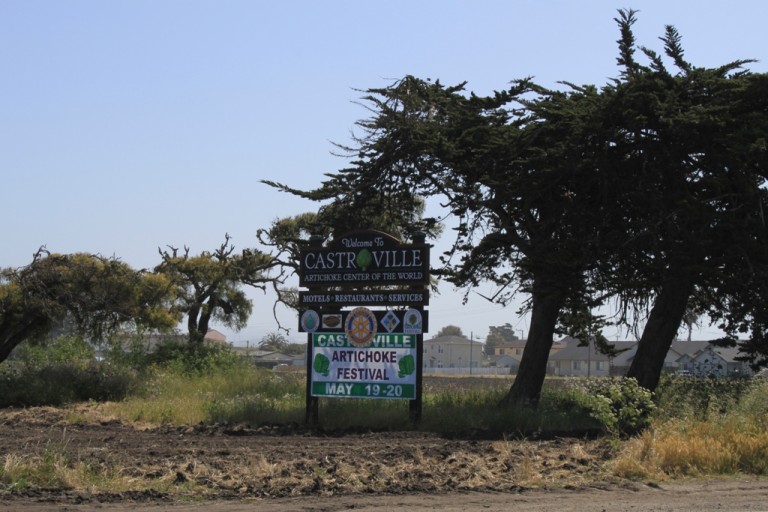 And if you go to Castroville, you MUST eat at the Giant Artichoke!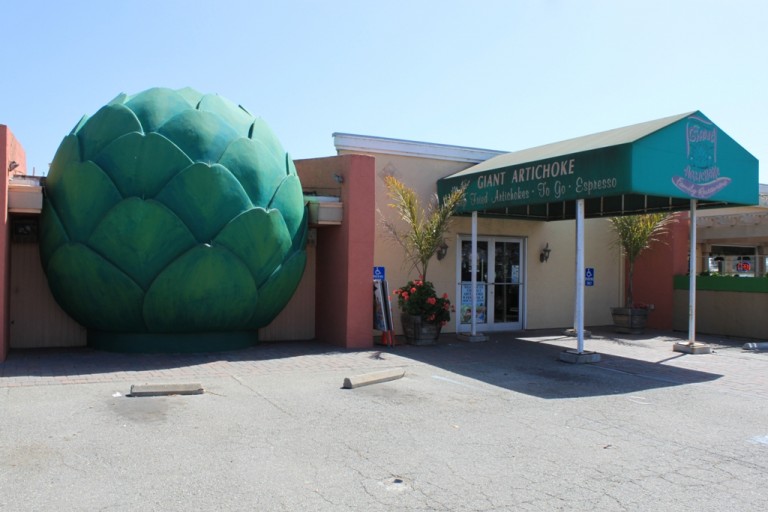 I also highly recommend the deep-fried artichoke hearts.  They are truly yummy and worth the days – nay, the week of dieting that must follow!  You can get some frozen artichoke hearts, plus fresh ones and artichoke memorabilia in the store next door.
FOR MORE ON CASTROVILLE:
Now as promised, here's my favorite artichoke recipe:
MAVEN'S ARTICHOKE PASTA SAUCE
Take four good-sized artichokes and prepare them by breaking off the tough outer leaves and trimming the tops.  Cut the end stalk so the artichokes will stand in the pan and cook in about 2″ of water over medium heat for about 30 to 45 minutes, or until you can pierce the bottom of the artichoke with a fork.
Remove artichoke hearts from the heat and allow to cool.  Pull of remaining leaves; discard if you wish, but I always dip some in butter and eat a few, plus I cut the ends off the tender leaves and add them to the sauce.  Scoop out the choke, and cut the heart into bite-sized pieces.
Then, start frying up some bacon.  While the bacon is cooking, saute 8 ounces sliced mushrooms with 1/4 cup diced green onions; cook until soft.  Add artichoke hearts and 1 cup heavy cream; heat slowly until cream thickens.  Do not allow to boil.
Toss sauce with pasta of your choice (we use angel hair); top with bacon bits, Parmesan cheese, and additional green onions if desired.  Enjoy!!!