It was called the "Last of the Great Railway Stations". Built at a time when railway service was starting to wane, Union Station of Los Angeles is a marvelous landmark which was becoming obsolete practically from the beginning and  a remnant from an era that was perhaps the greatest for Southern California.
Union Station was designed by John and Donald Parkinson, a father-son duo who designed Los Angeles City Hall, the Memorial Coliseum, many buildings on the campus of University of Southern California, and more  (click here for photo gallery).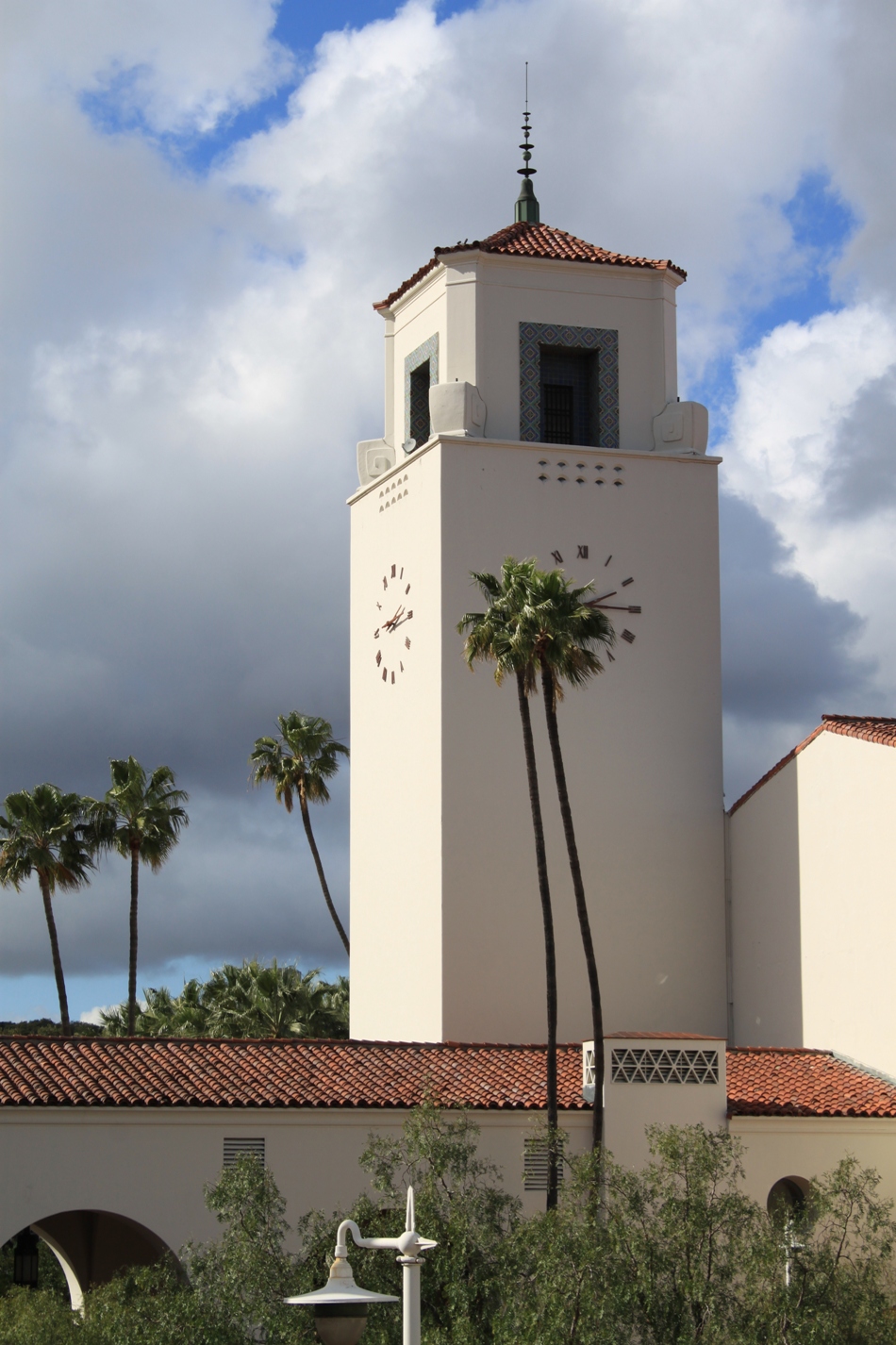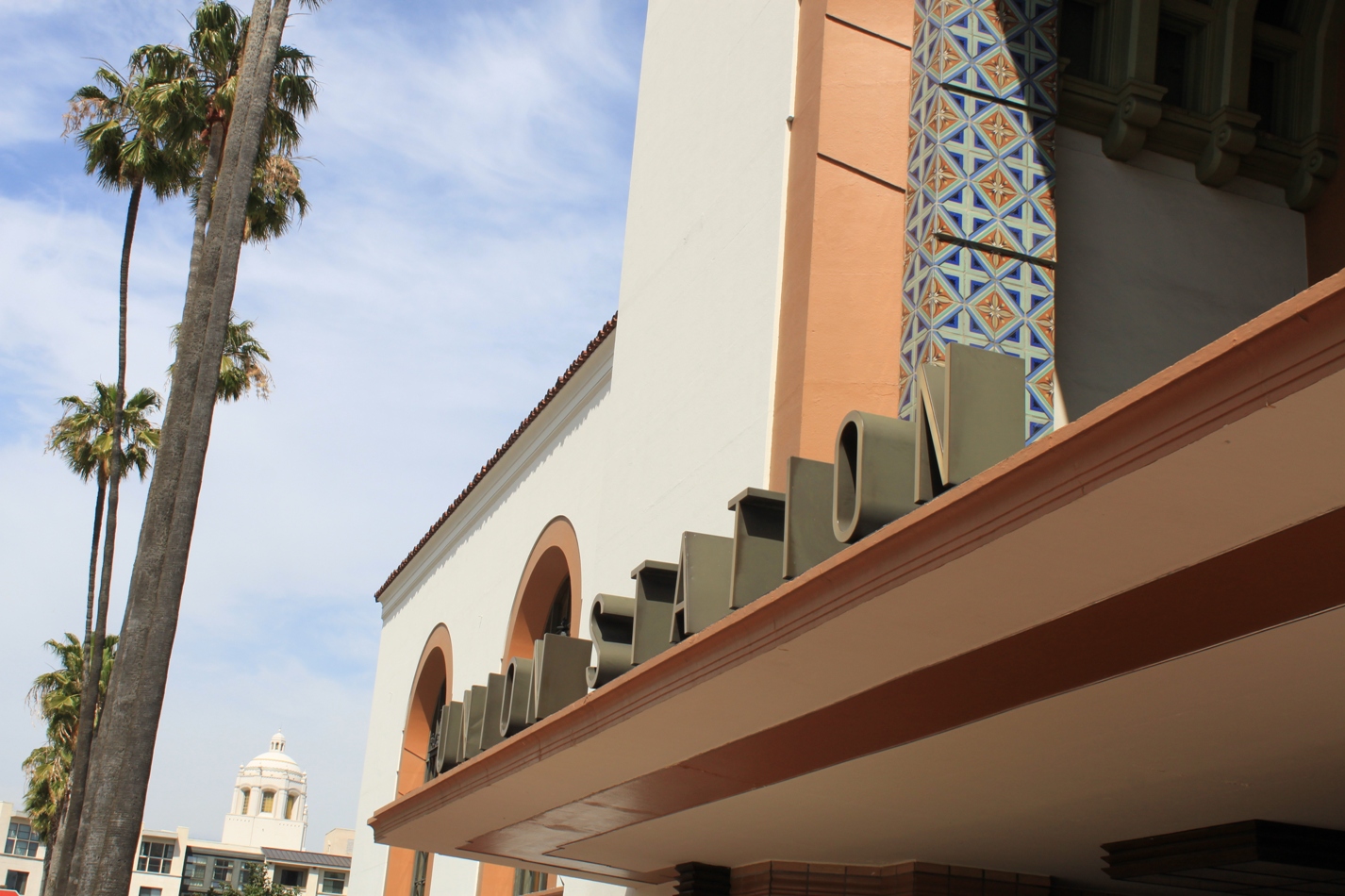 The architectural style is a fabulous combination of Spanish Colonial, Mission Revival and Art Deco.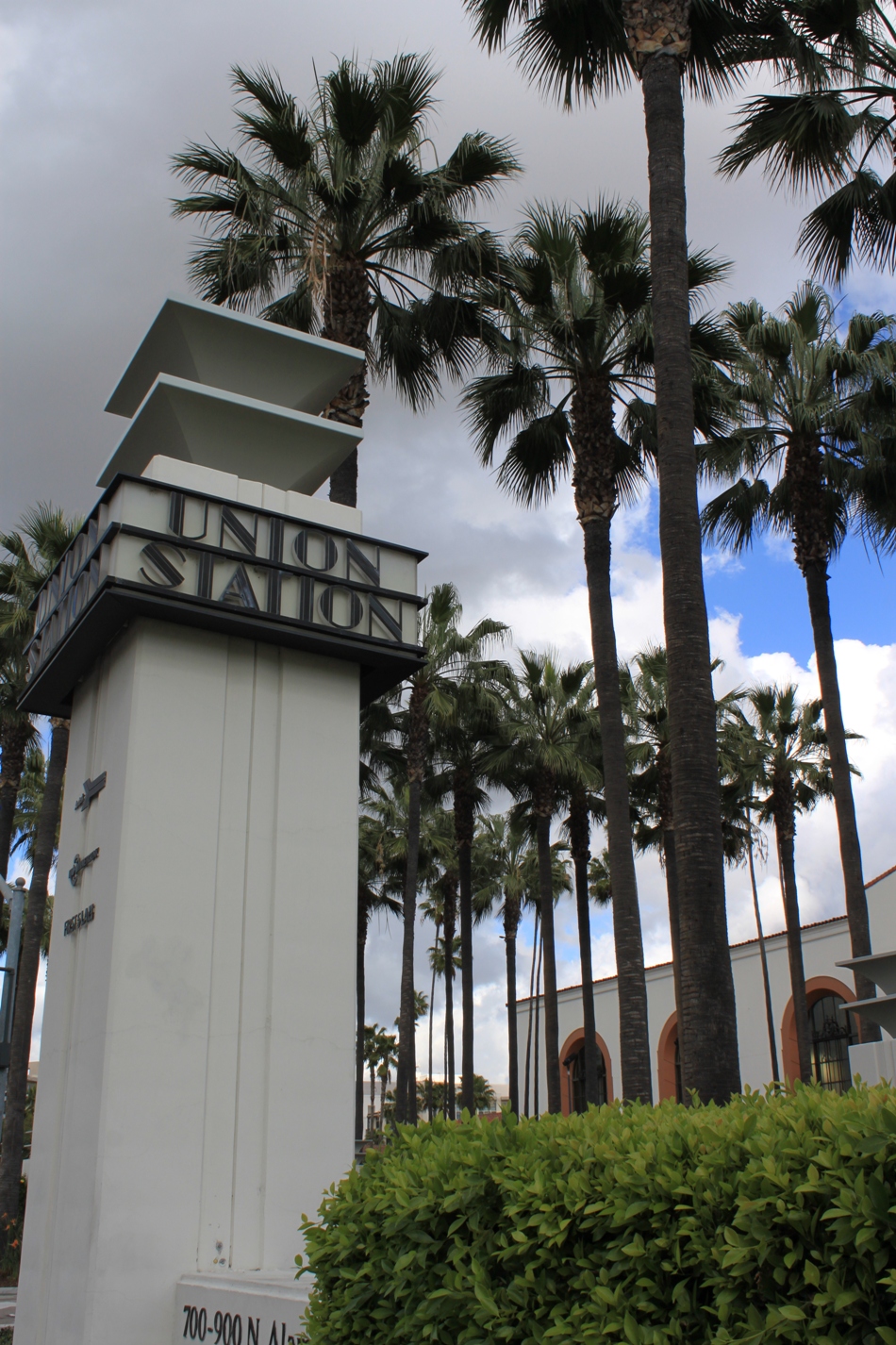 Construction began in 1933 and was completed by 1939 at a cost of $11 million.  Union Station consolidated two other railway terminals in the area.  Here are some pictures from the opening parade (pictures from the UCLA Digital Collection):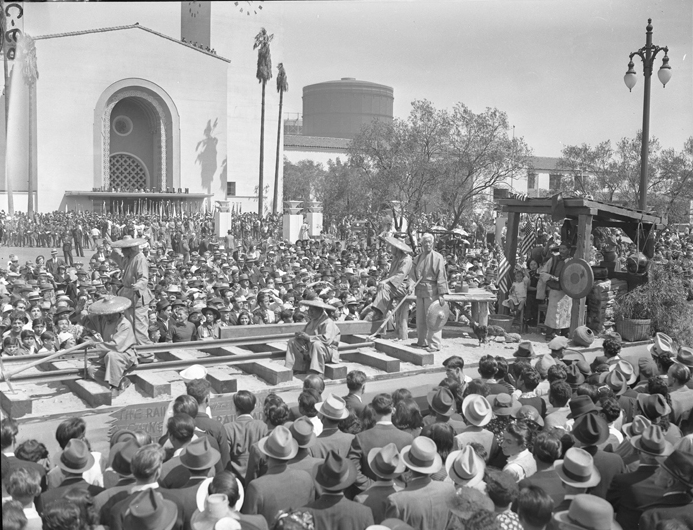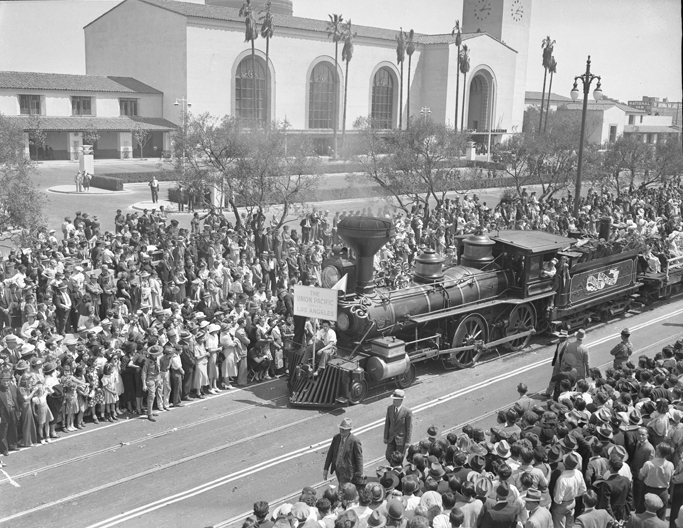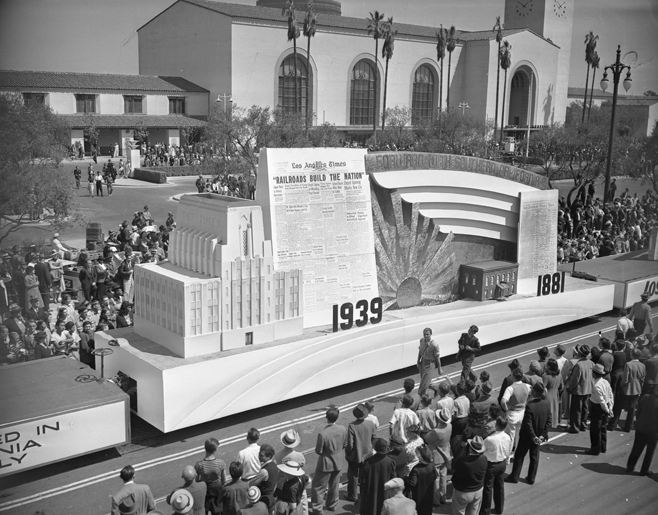 The station was used extensively during World War II for troop movement; Hollywood stars were often photographed there – this is a picture of actress Kim Novak (UCLA Digital Archives).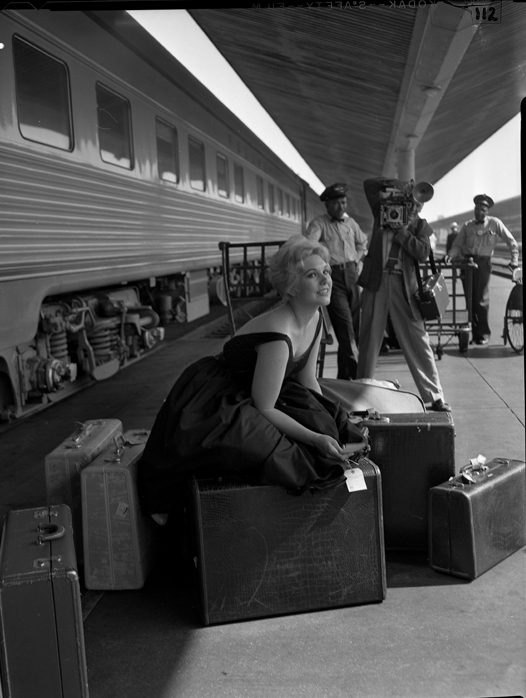 Union Station is still used today serving Amtrak, Metrolink, and light rail with connection to bus lines.  Below is the waiting room.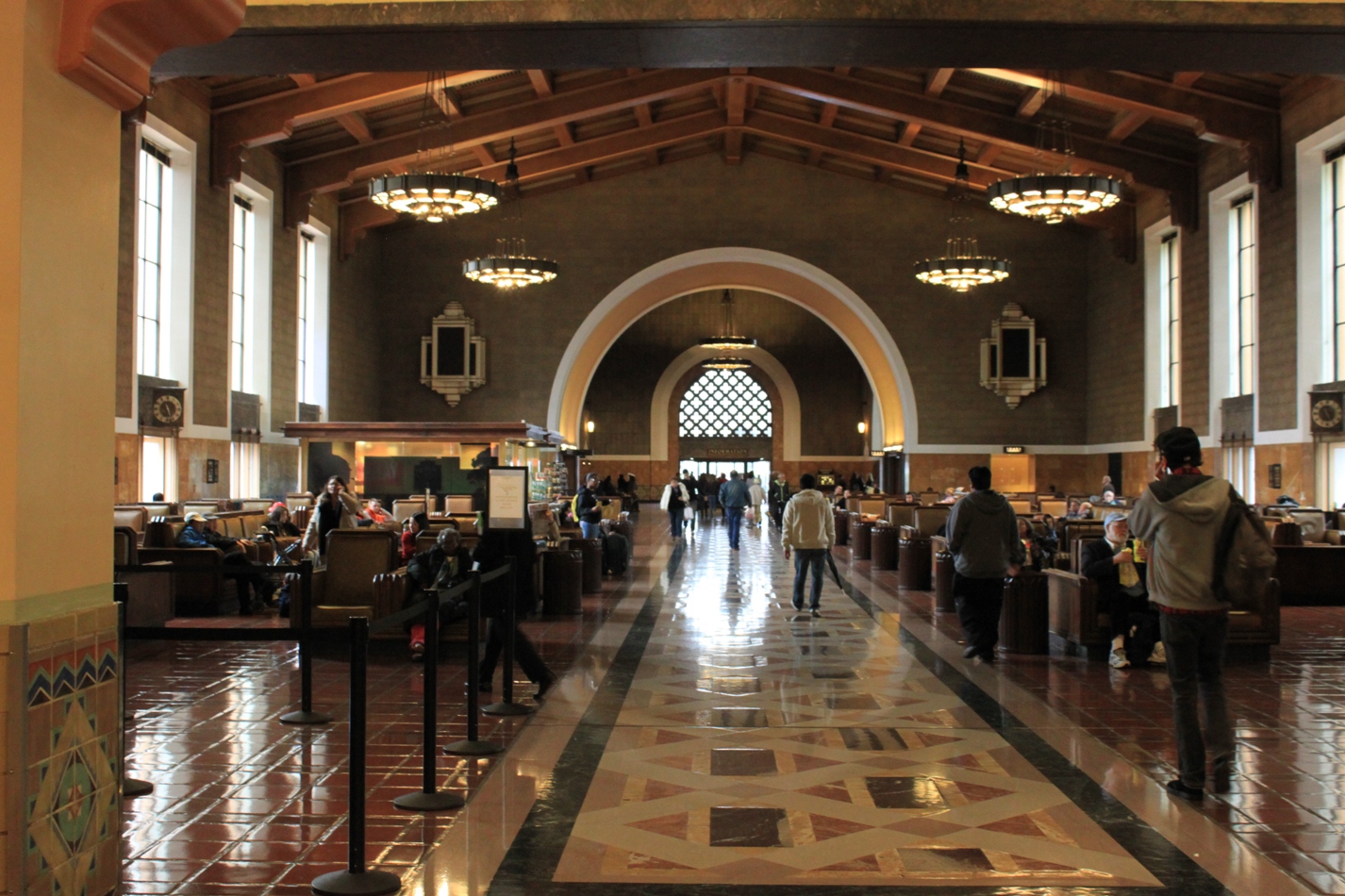 Attention is paid to every detail, even down to the elaborate ceiling above the waiting room …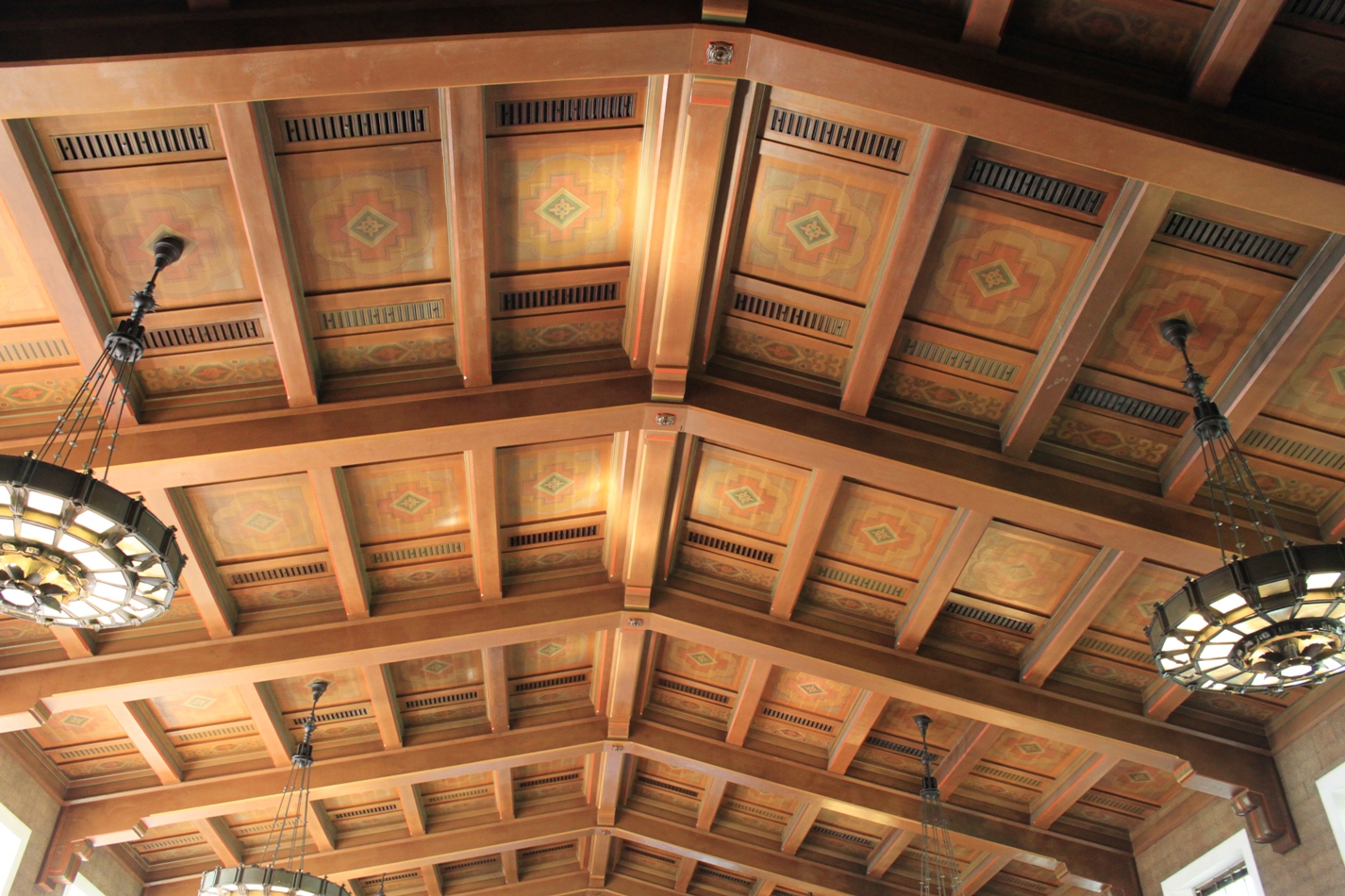 … and the waiting room chairs are as comfortable as a chair in your own living room.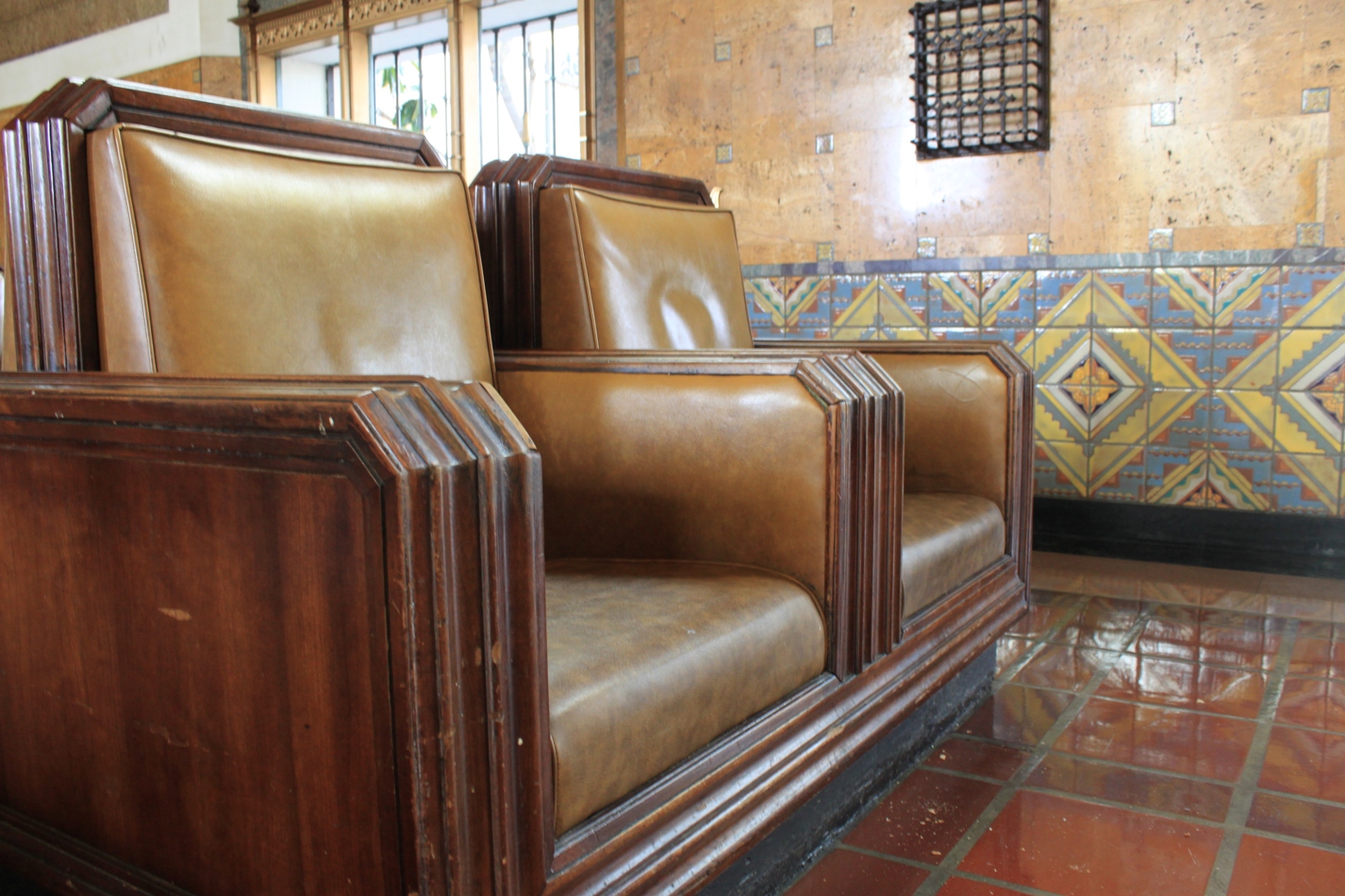 The original room used for ticketing is no longer used, but is rented out for private parties.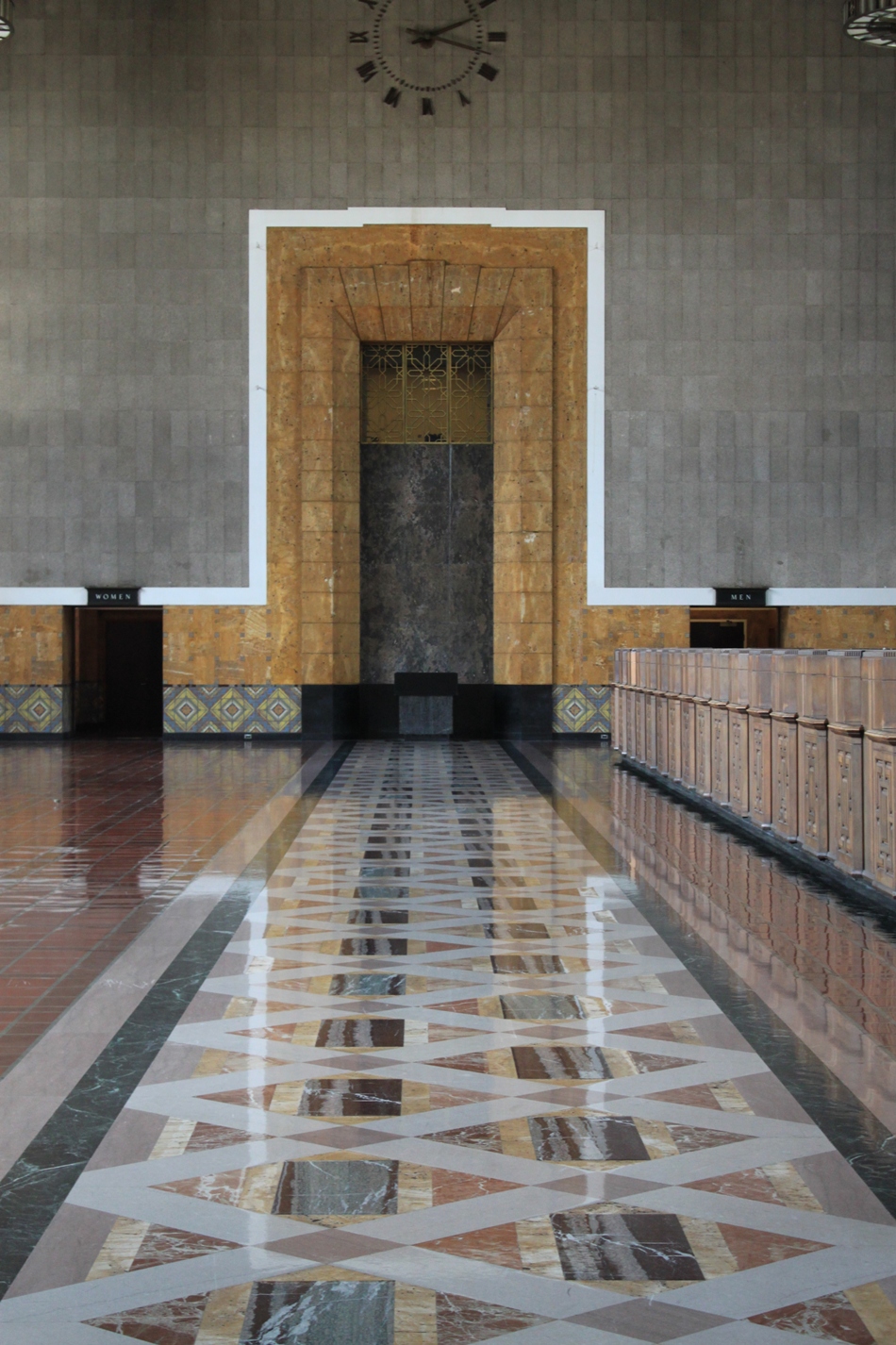 Here's a picture of this room on opening day (courtesy of UCLA Digital Archives):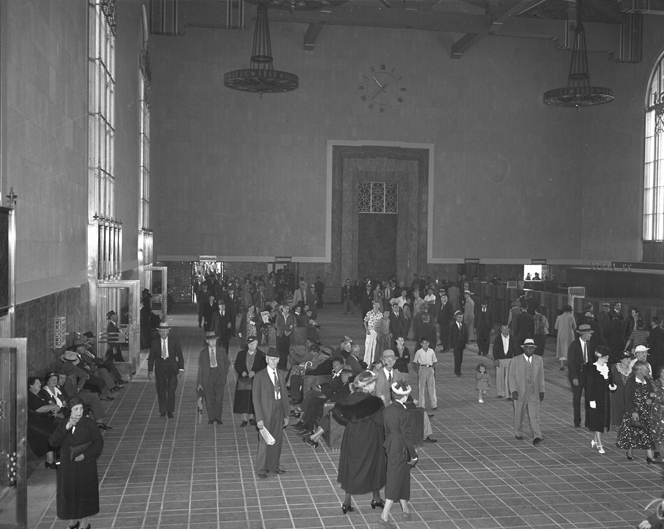 There are wonderful little architectural features everywhere – no detail has gone unnoticed, from the tiebacks for the blinds …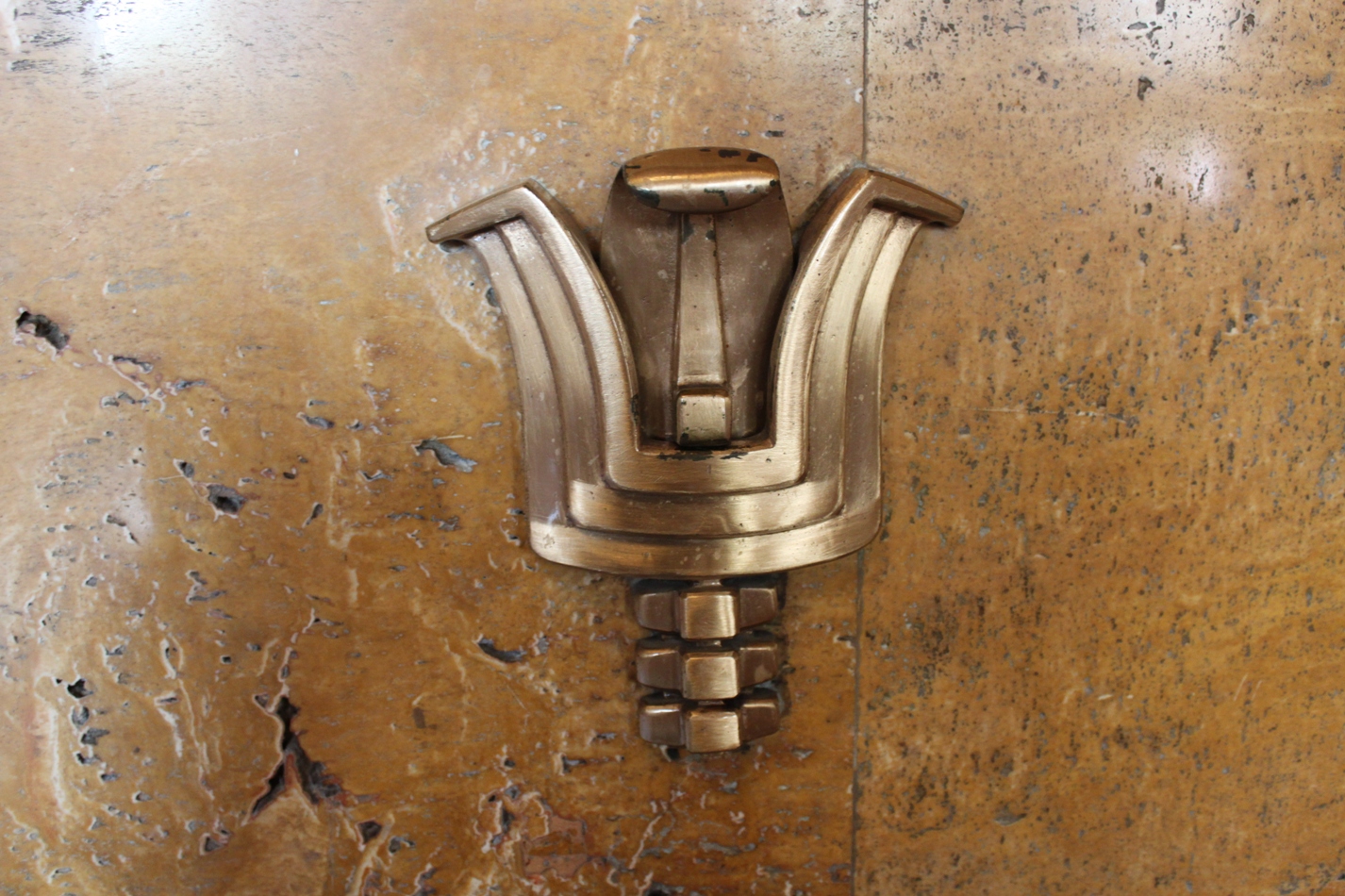 to the windows …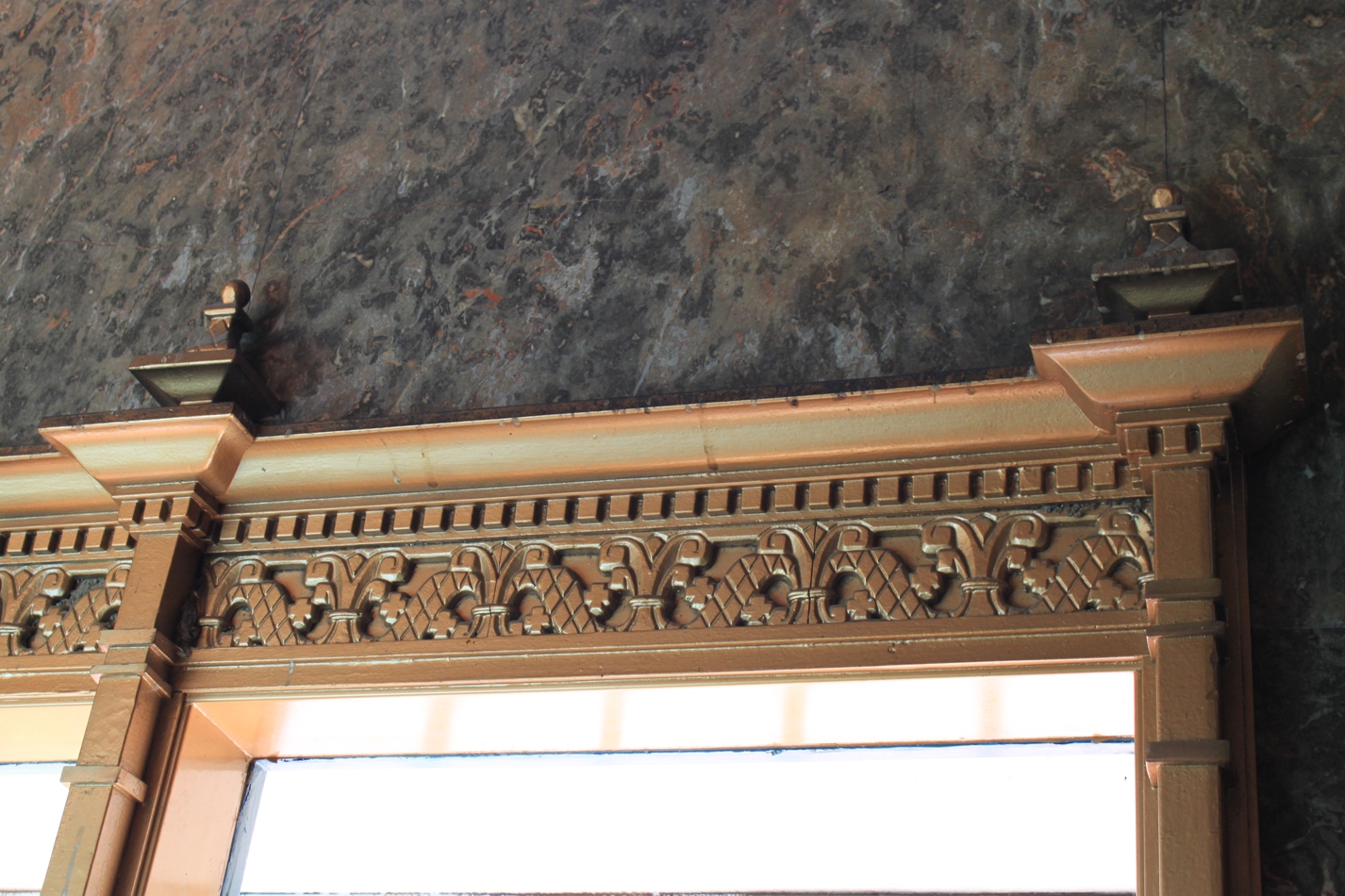 and columns …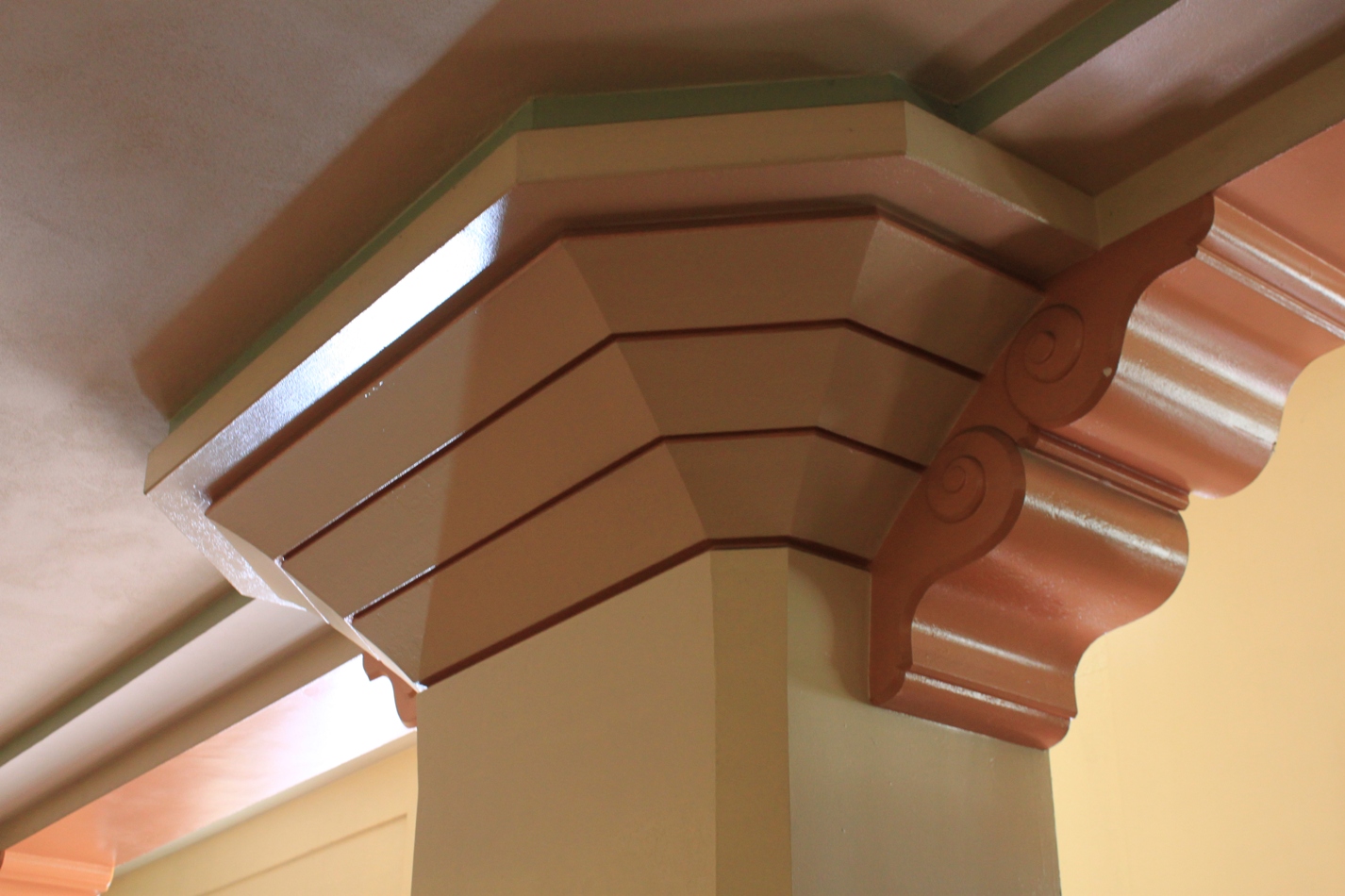 and doors …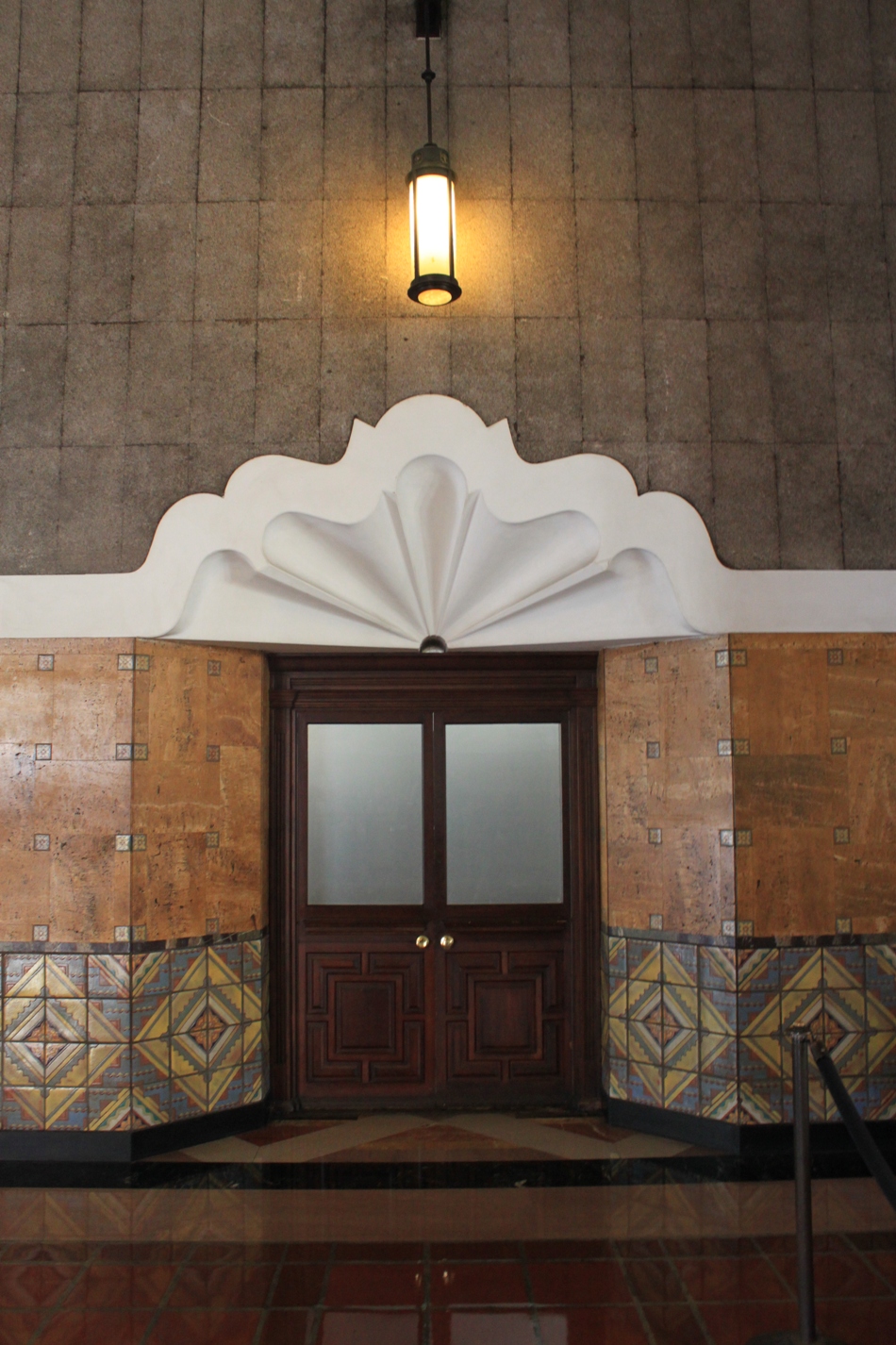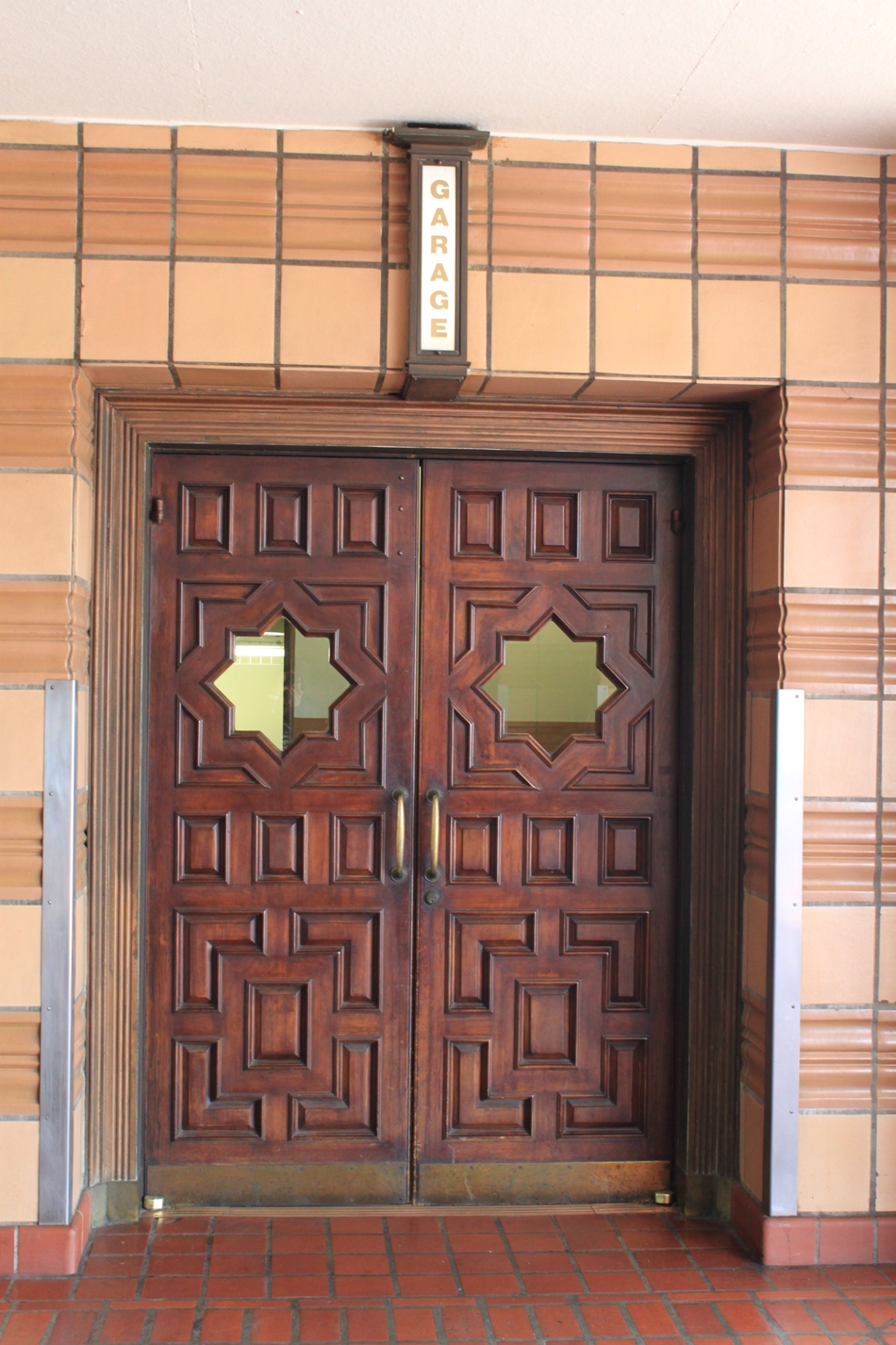 Of course, what's a train station without trains, right?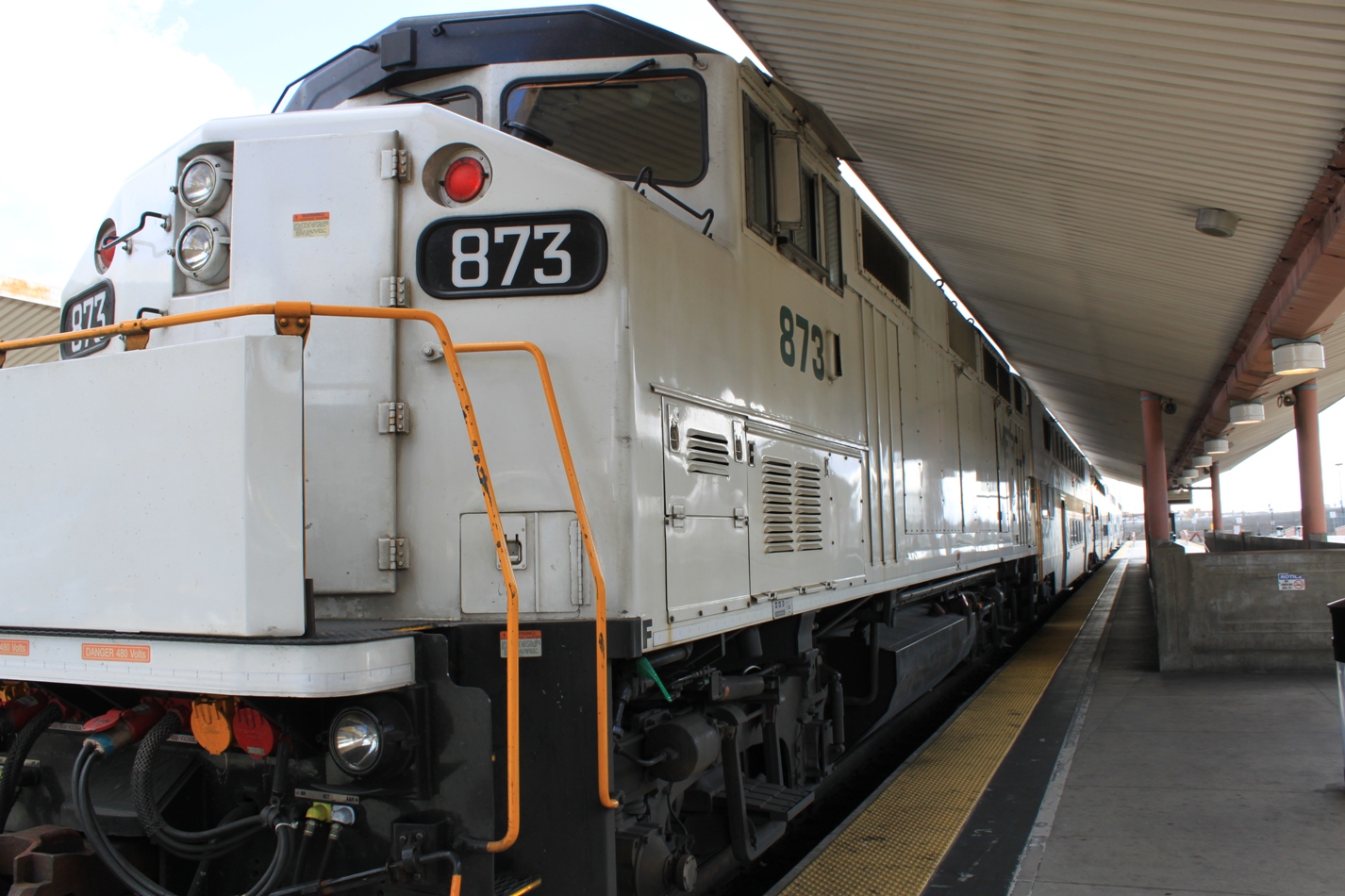 Of course, that's just a Metrolink train.  The real heyday for Union Station was when these trains were stopping by …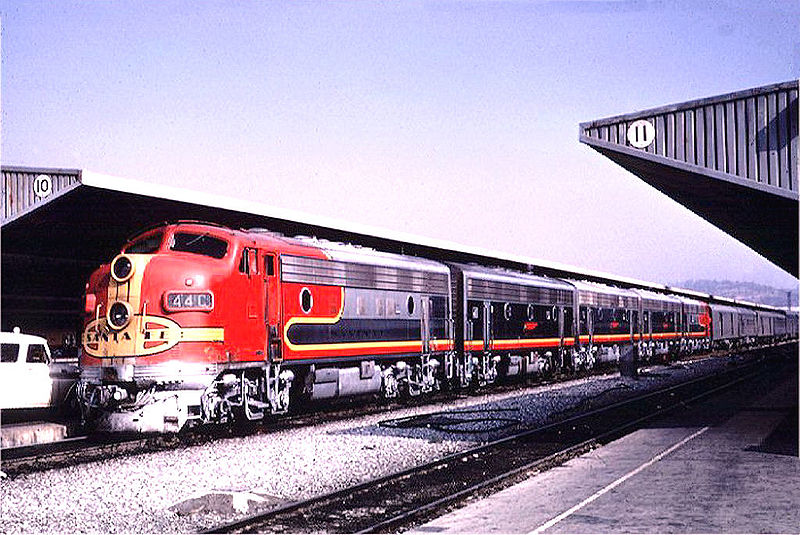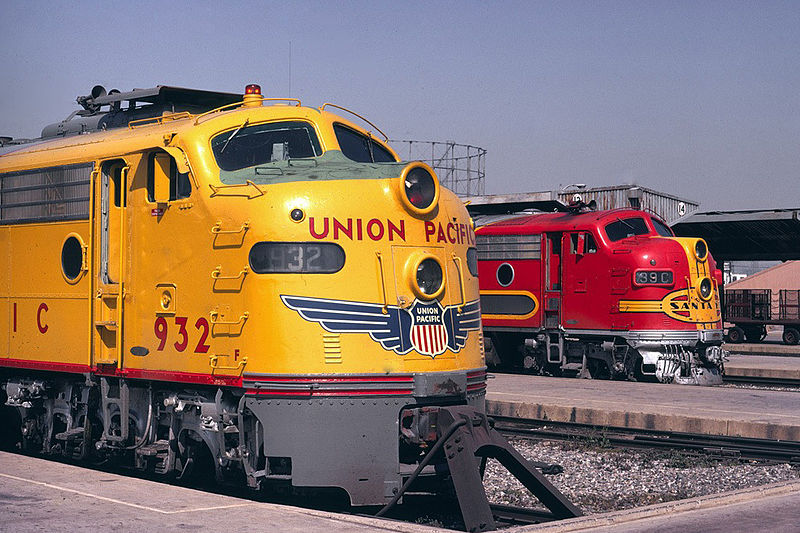 Here are some train details: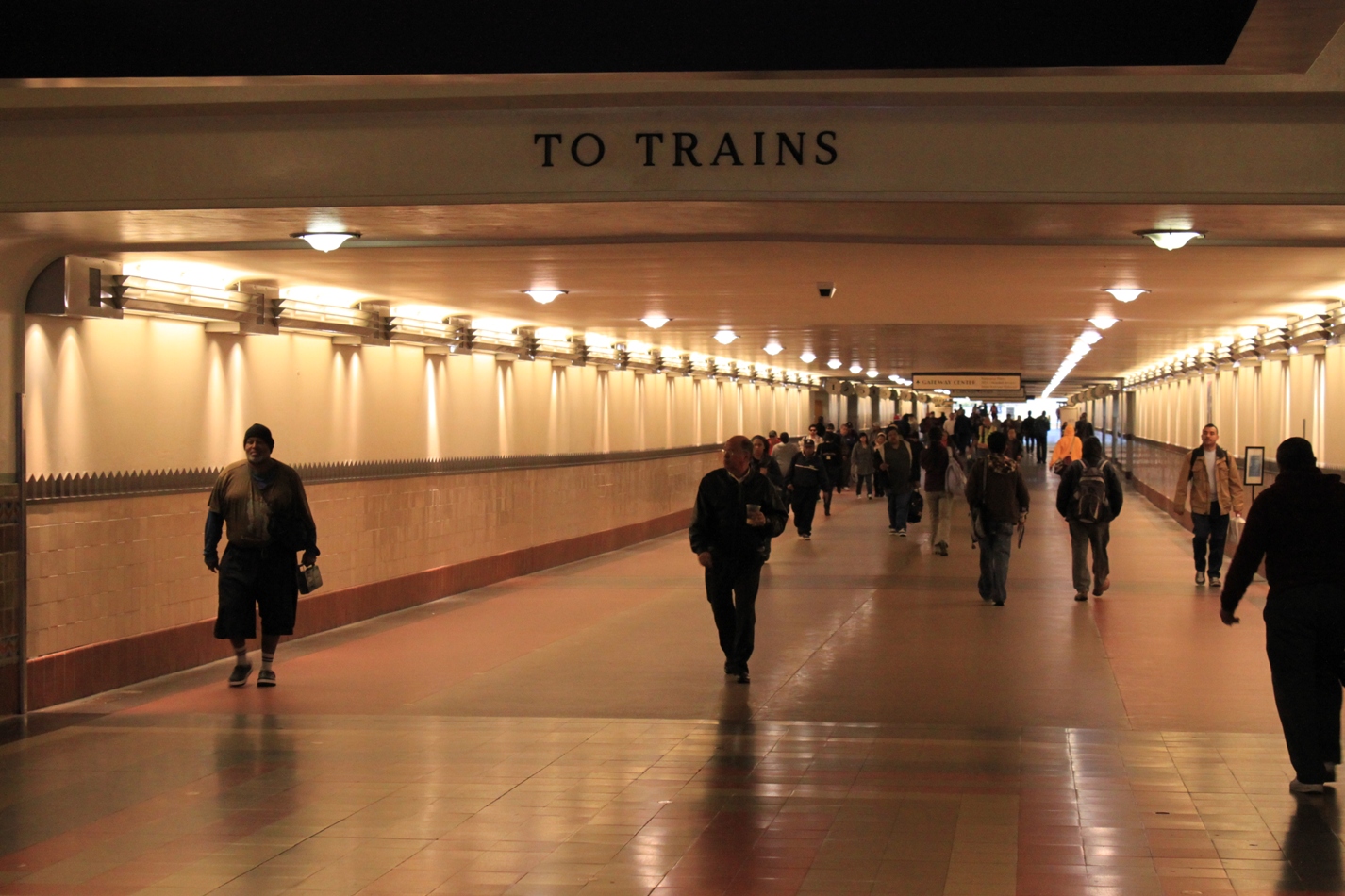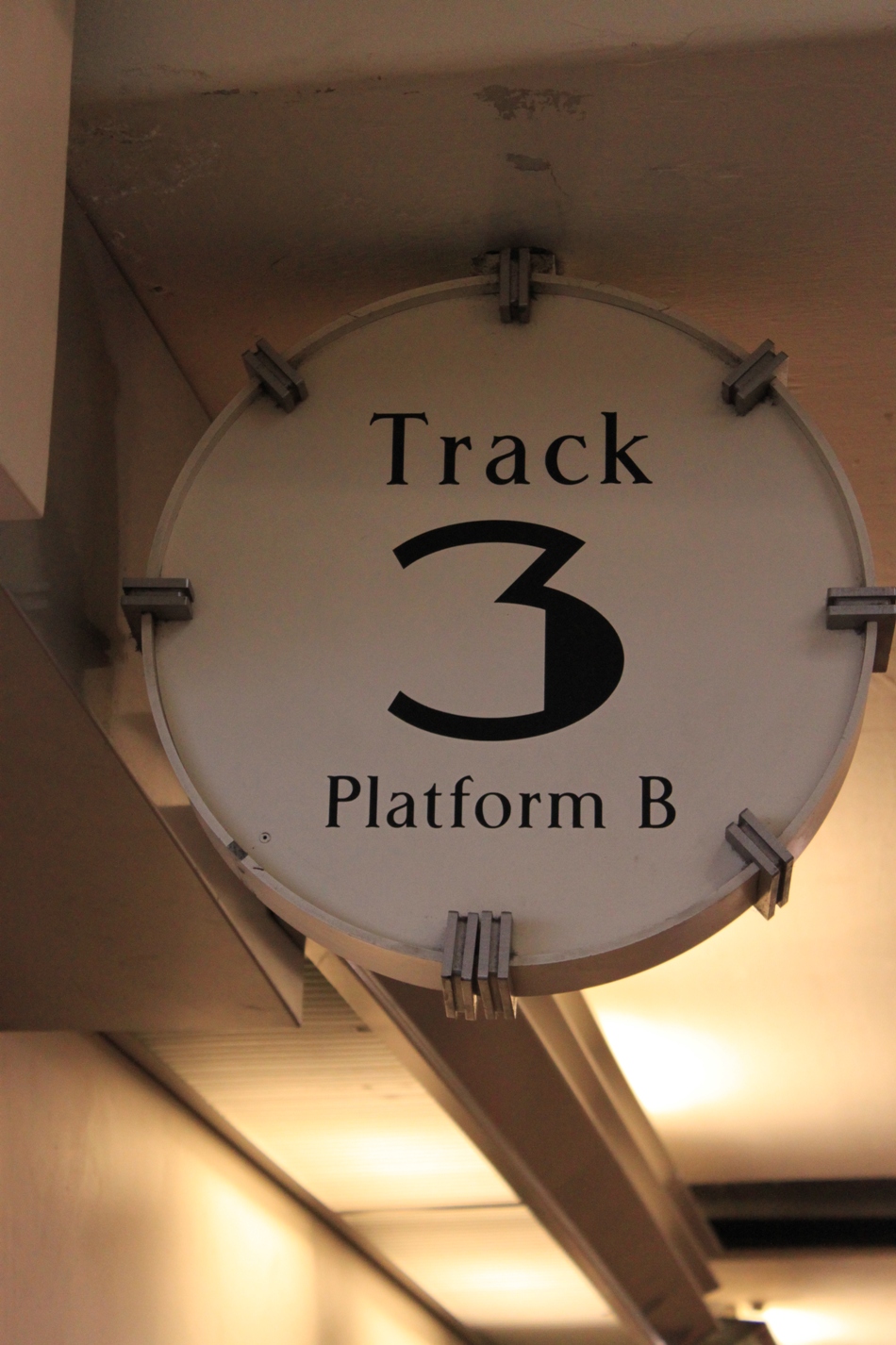 The grounds complement the building nicely, with courtyards on both sides that make waiting for the trains quite pleasant.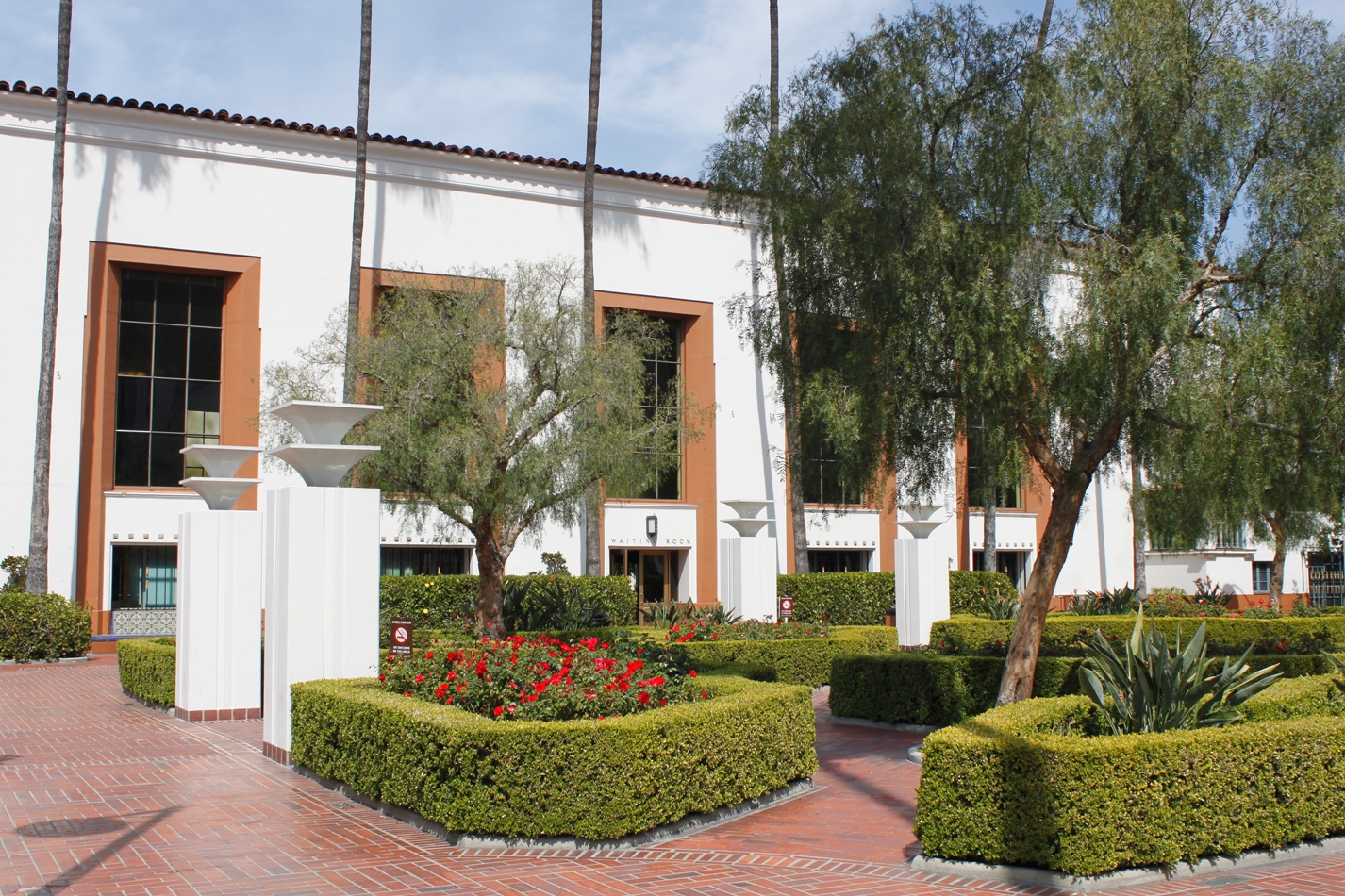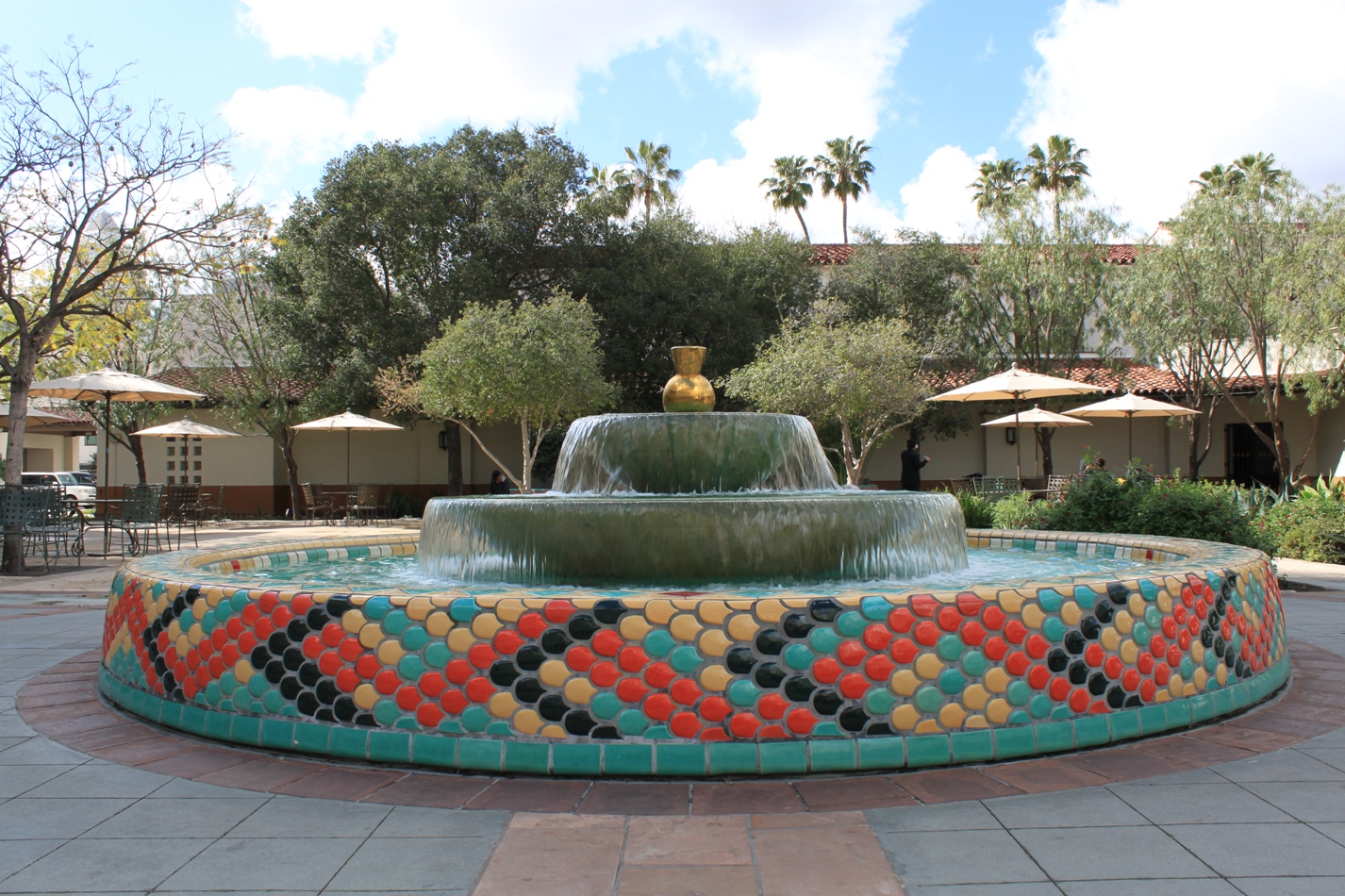 Beautiful plants to enjoy while you wait …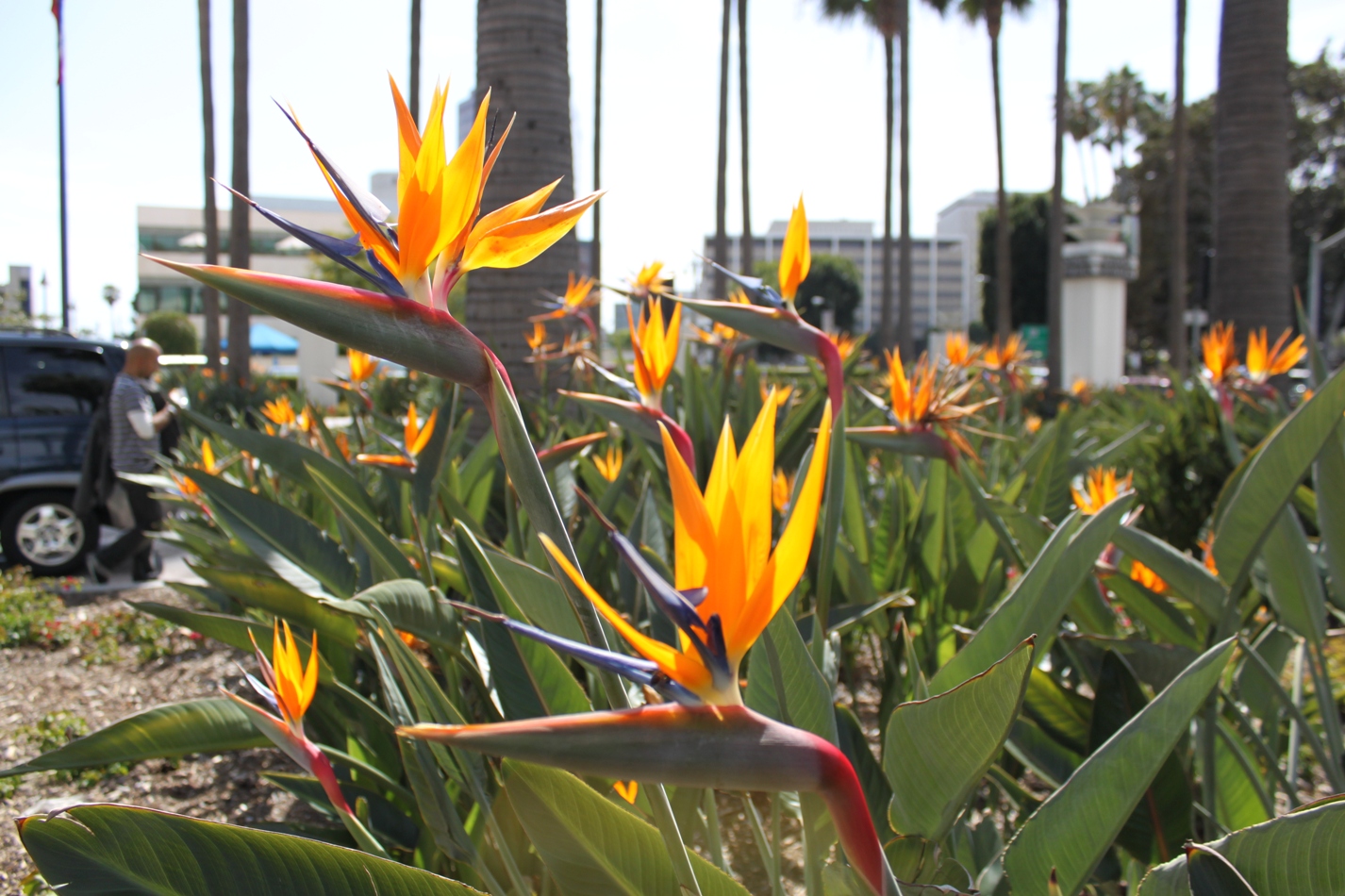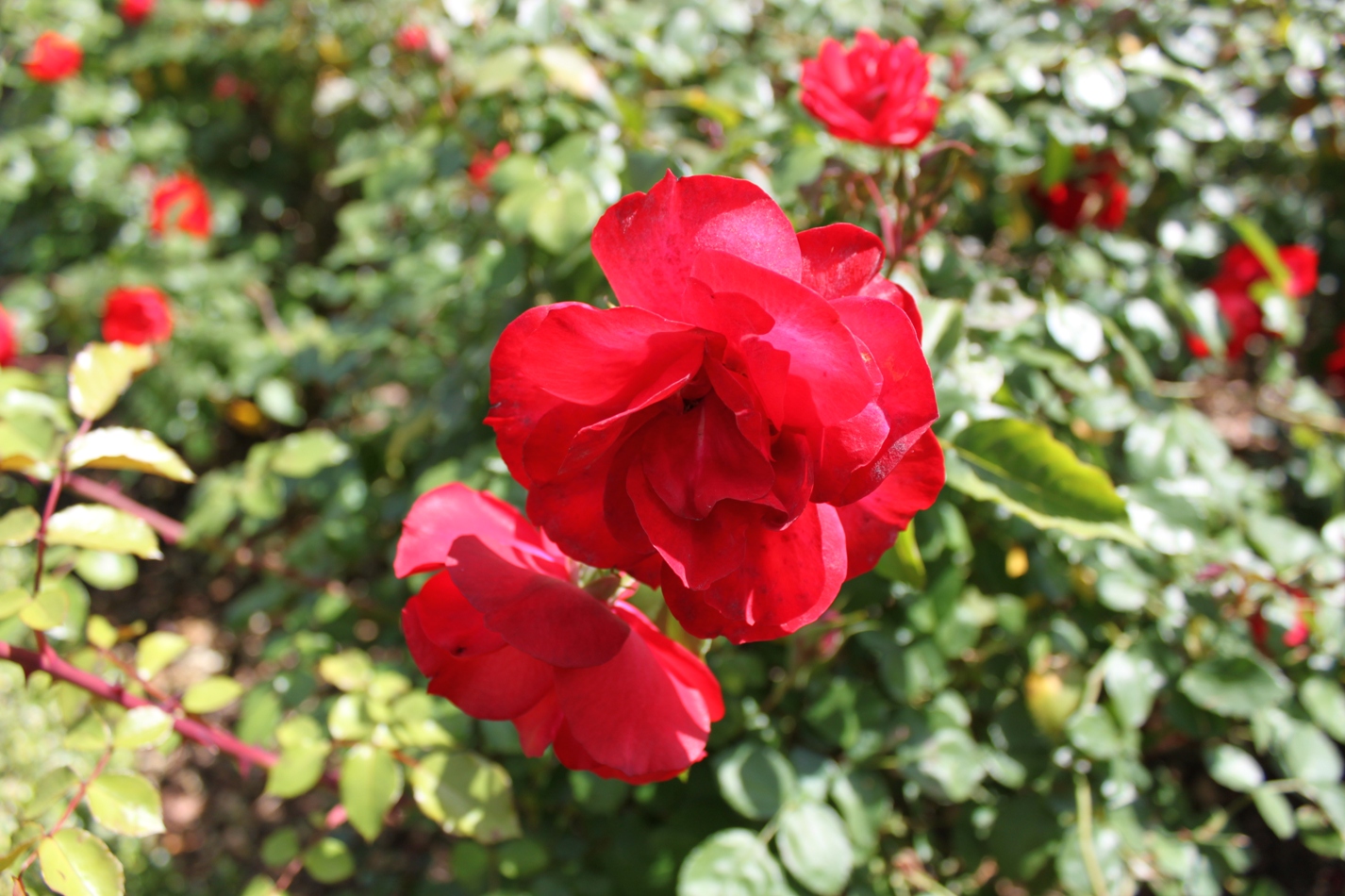 And what is Southern California without the iconic palm trees?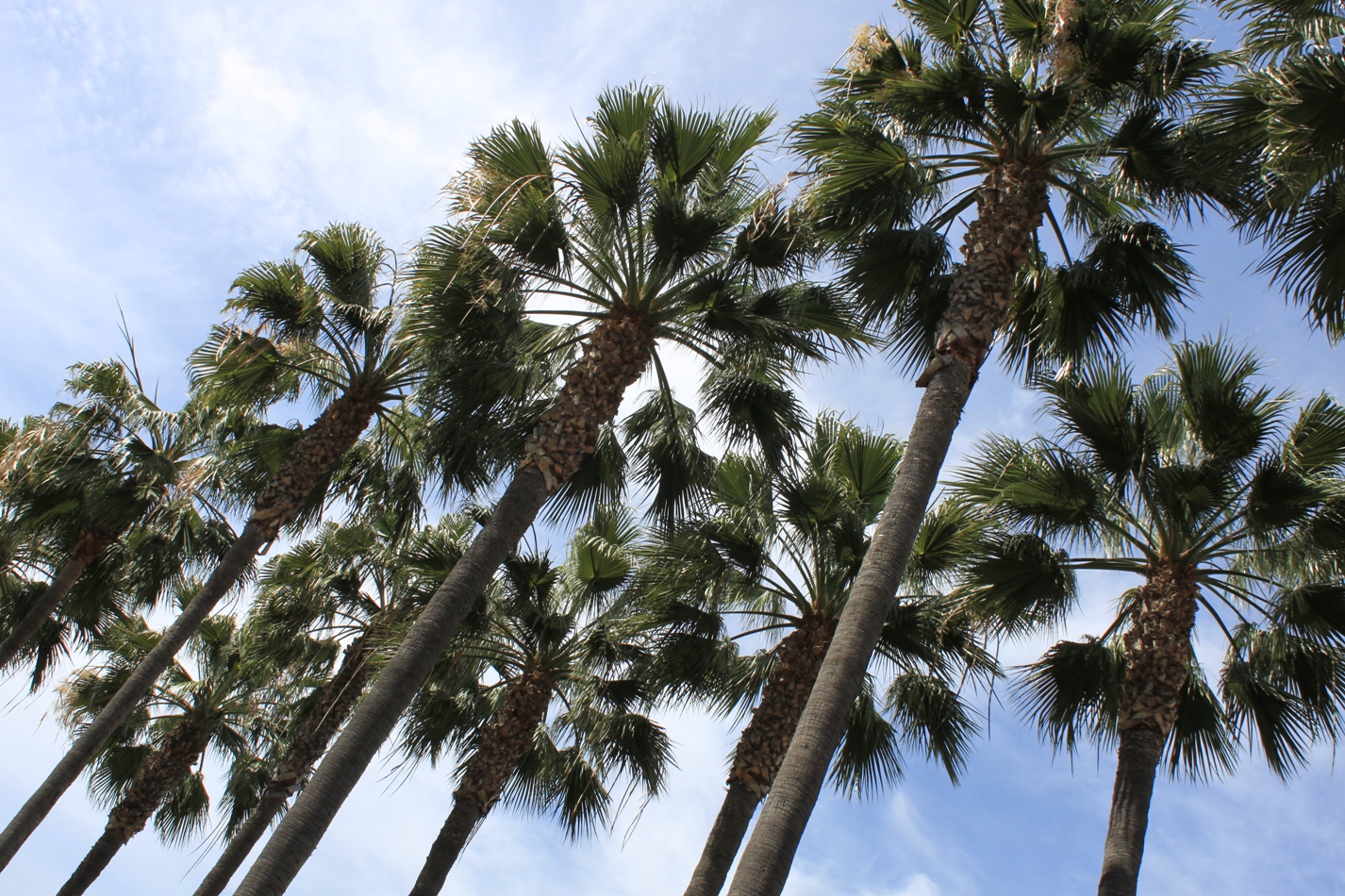 Out front, there is a sundial, placed there in honor of Albert G. Arnoll, Secretary and General Manager of the Los Angeles Chamber of Commerce.  I'd like to tell you what he did to get this sundial here so that people like me will come by 70+ years later and wonder who they heck they were, but there's not much information on Google.  Lucky guy!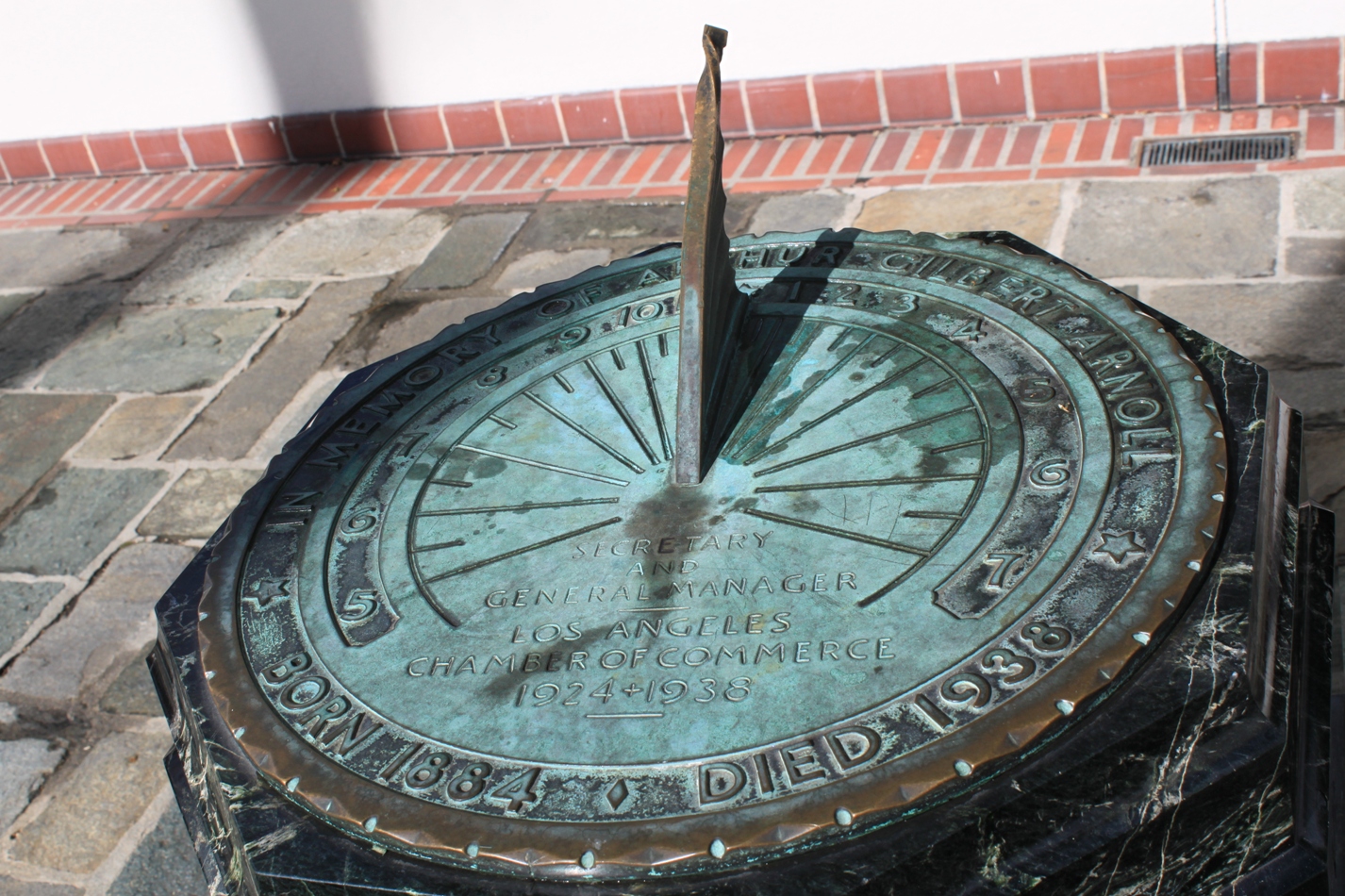 There's a restaurant off to the side that is no longer used.  It was one of the last "Harvey House" restaurants to be built in a passenger terminal.  (I took this picture through the glass; it was impossible to eliminate the reflections, but I sort of like the way this one came out … )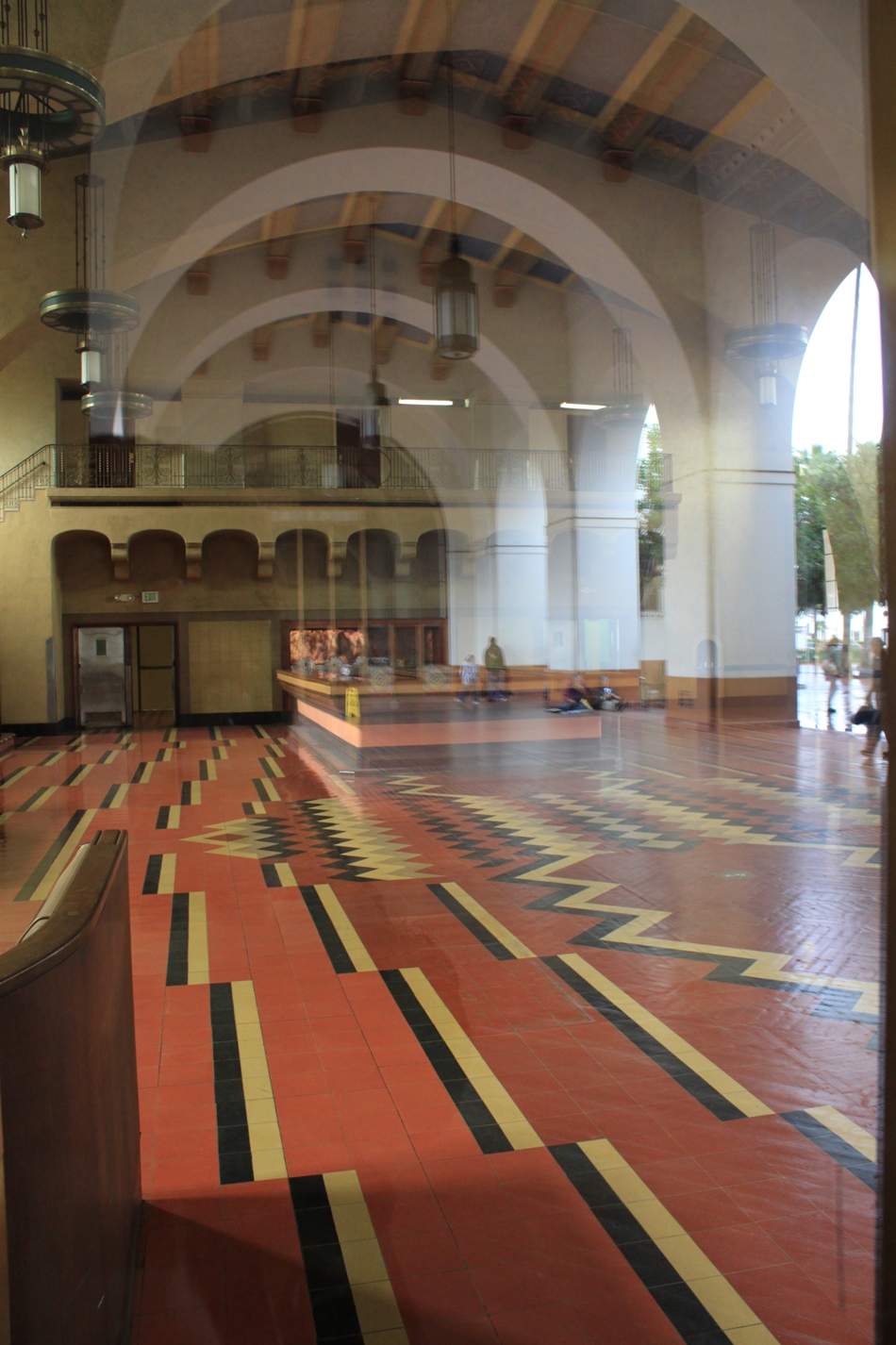 In the back is the Patsaouras Transit Plaza, named after Nick Patsasouras,  a former RTD board member who was an advocate for public transportation.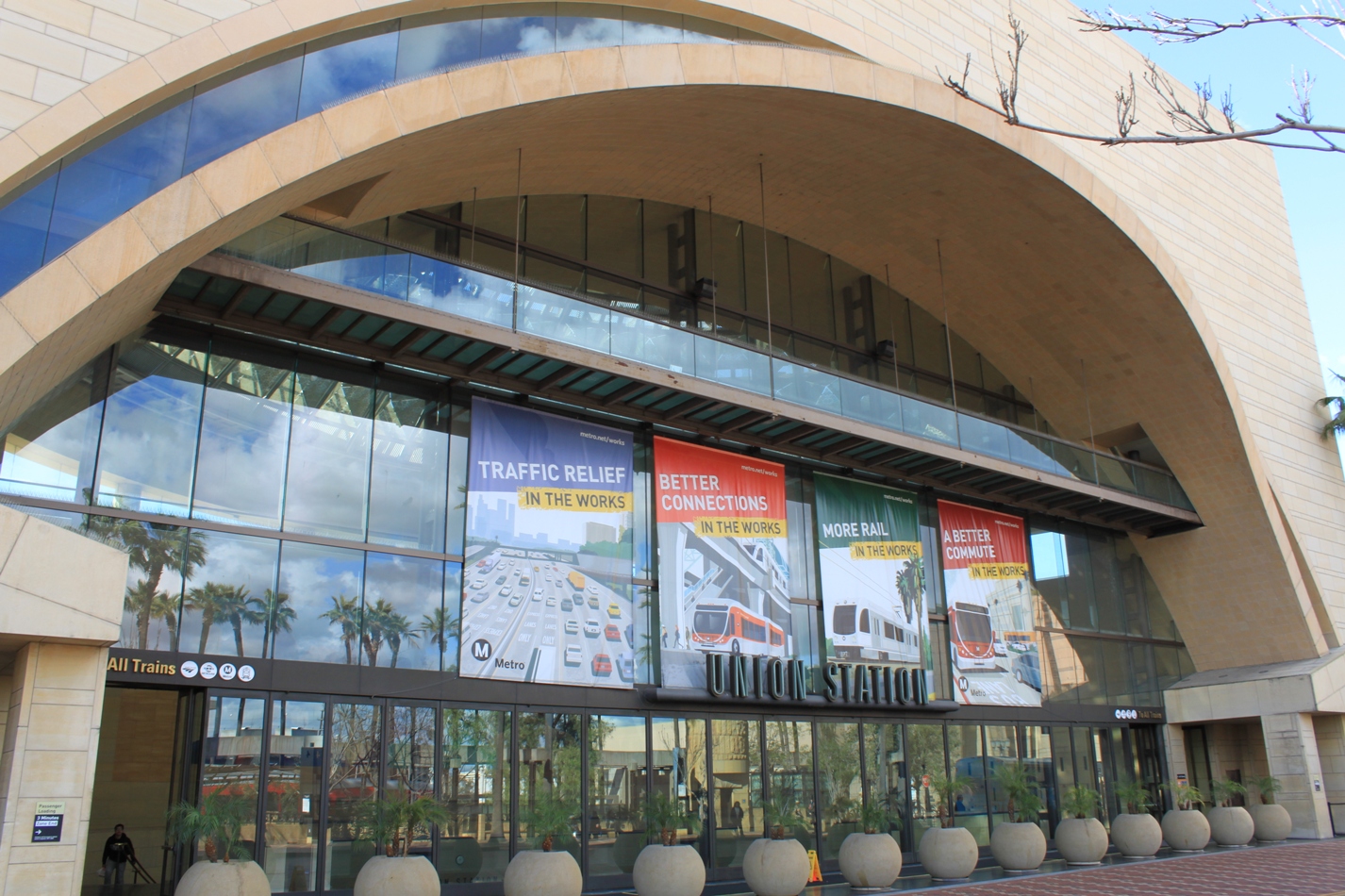 The plaza connects the bus lines to the trains and light rail lines.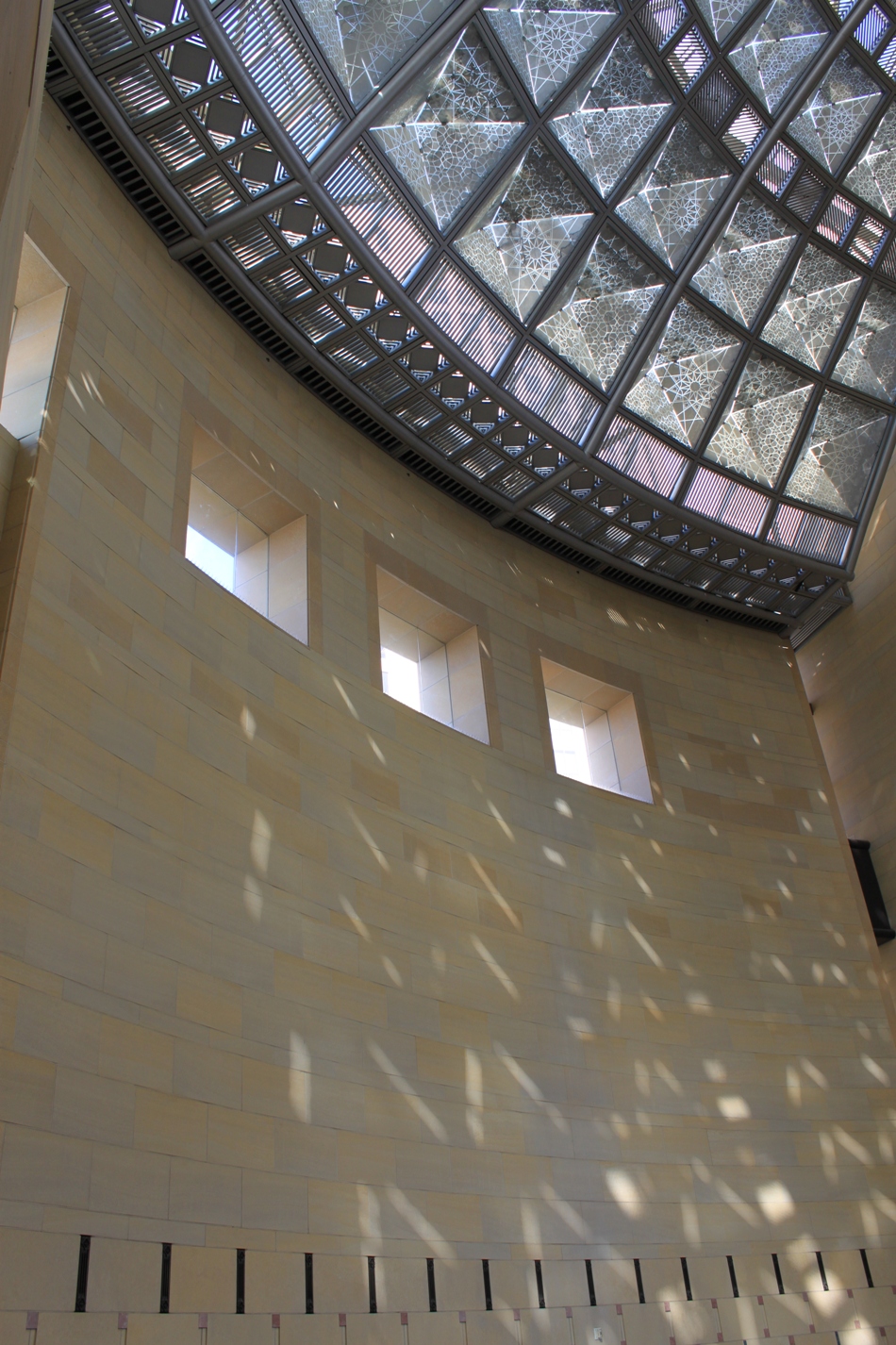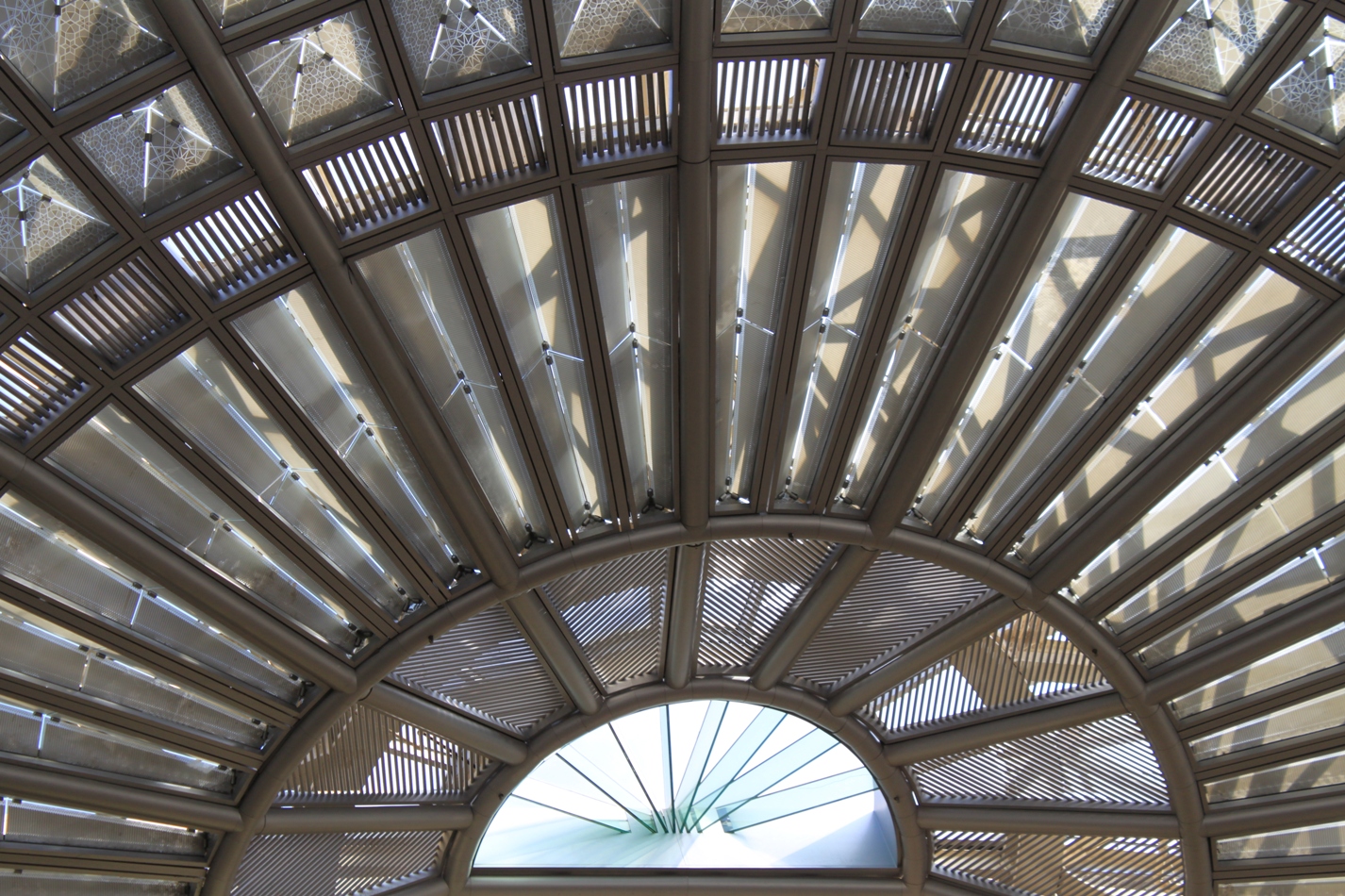 For more information on Union Station, Los Angeles:
What is the future of Union Station?