You may have seen these cliffs before. They've appeared in many movies, from early cowboy films to Jurassic Park, in TV shows such as Bonanza, and even occasionally in commercials. This is the scenery of Red Rock Canyon State Park.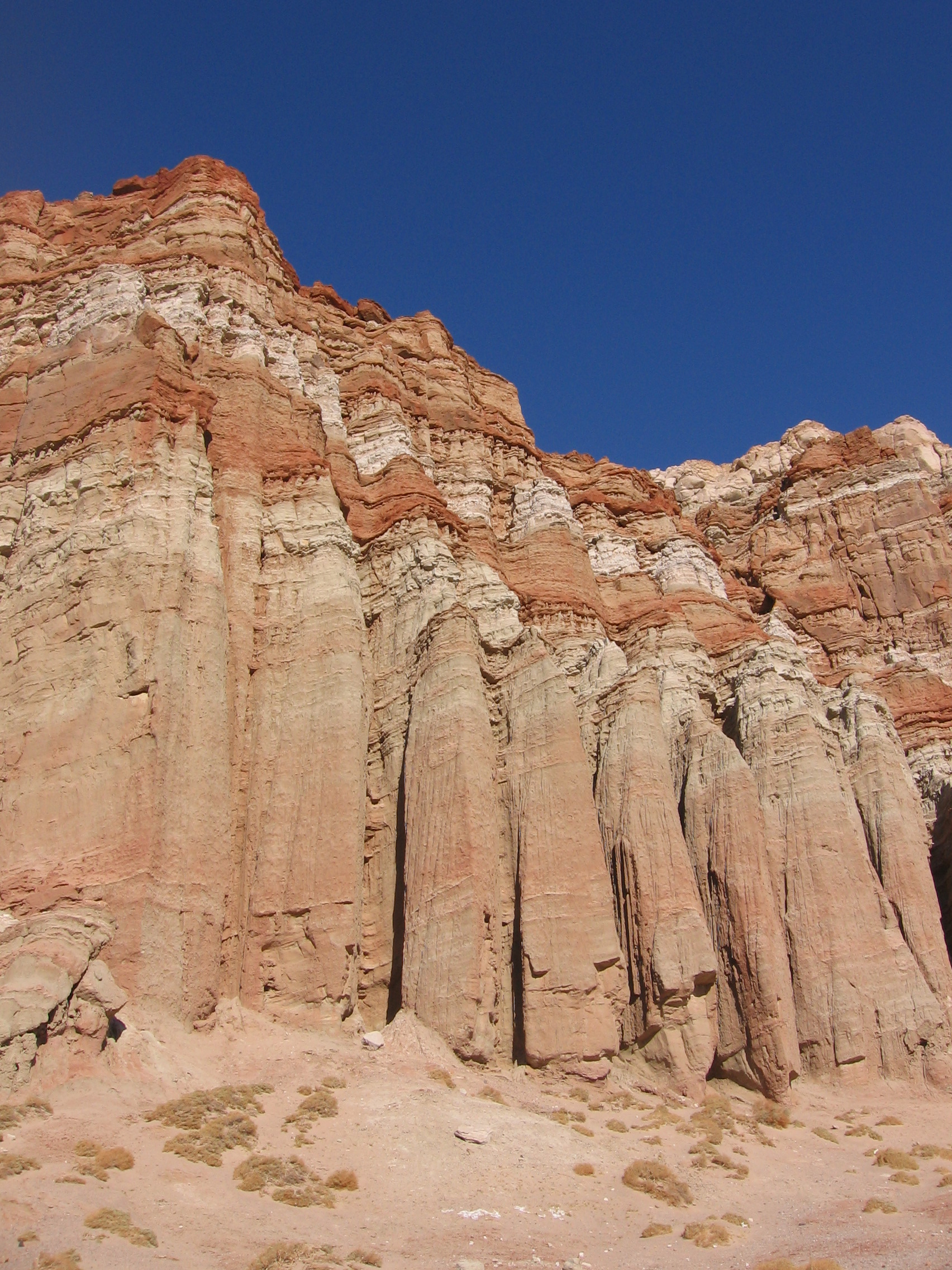 Located along SR-14, north of Mojave, the dramatic Red Cliffs on the east side of the roadway provide a welcome stop to stretch your legs on your way to points north.  The more adventurous souls can find plenty here to fill a few hours, an afternoon, or even a day.
These fluted accordion-like folds are the result of wind and particularly rain eroding the softer materials below, forming a collage of columns, spires, chutes, ridges and caves.
These rocks were formed about 12 to 13 million years ago by a hot ash flow from a nearby volcano.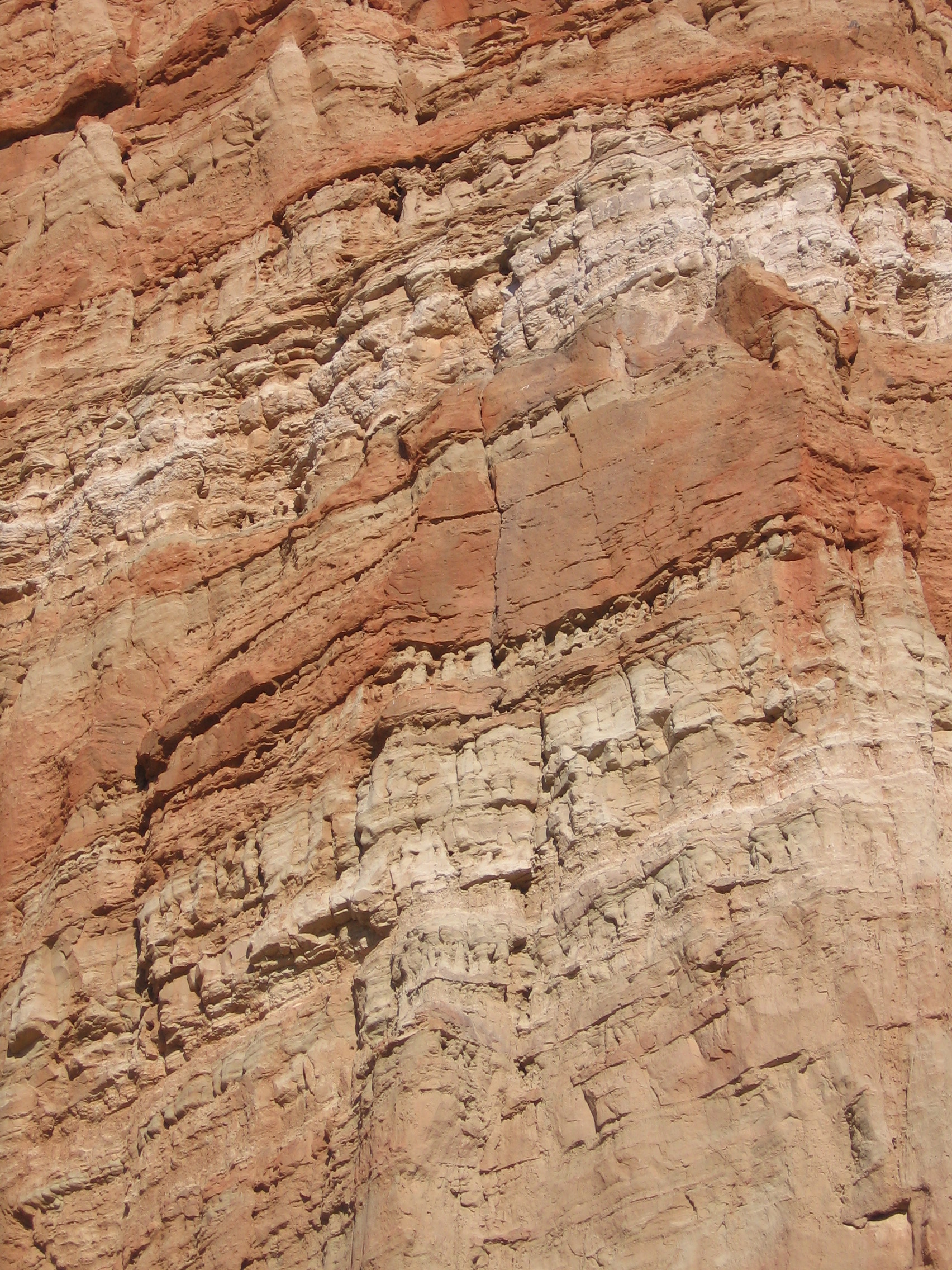 The colors vary from white, cream, and beige to brown, pink, and red, and even the occasional greenish tint in some places.  This wide variation in color reflects the high content of volcanic debris present in the sedimentary rock here.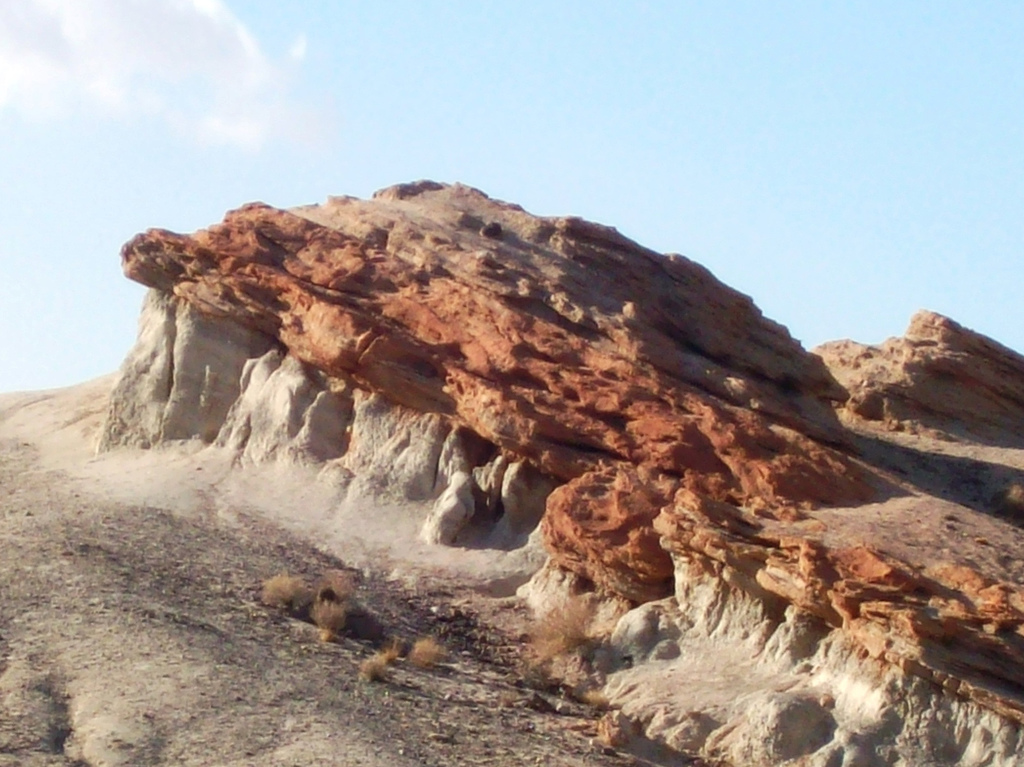 (Photo above by mhlradio, flickr)  These sediments were deposited in an ancient inland lake millions of years ago (likely a  Pleistocene-era lake, although my research does not specify that), and have been lifted by earthquakes along the Garlock, El Paso and Sierra Frontal faults.
In some places, the hills are capped with a darker, basaltic lava cap.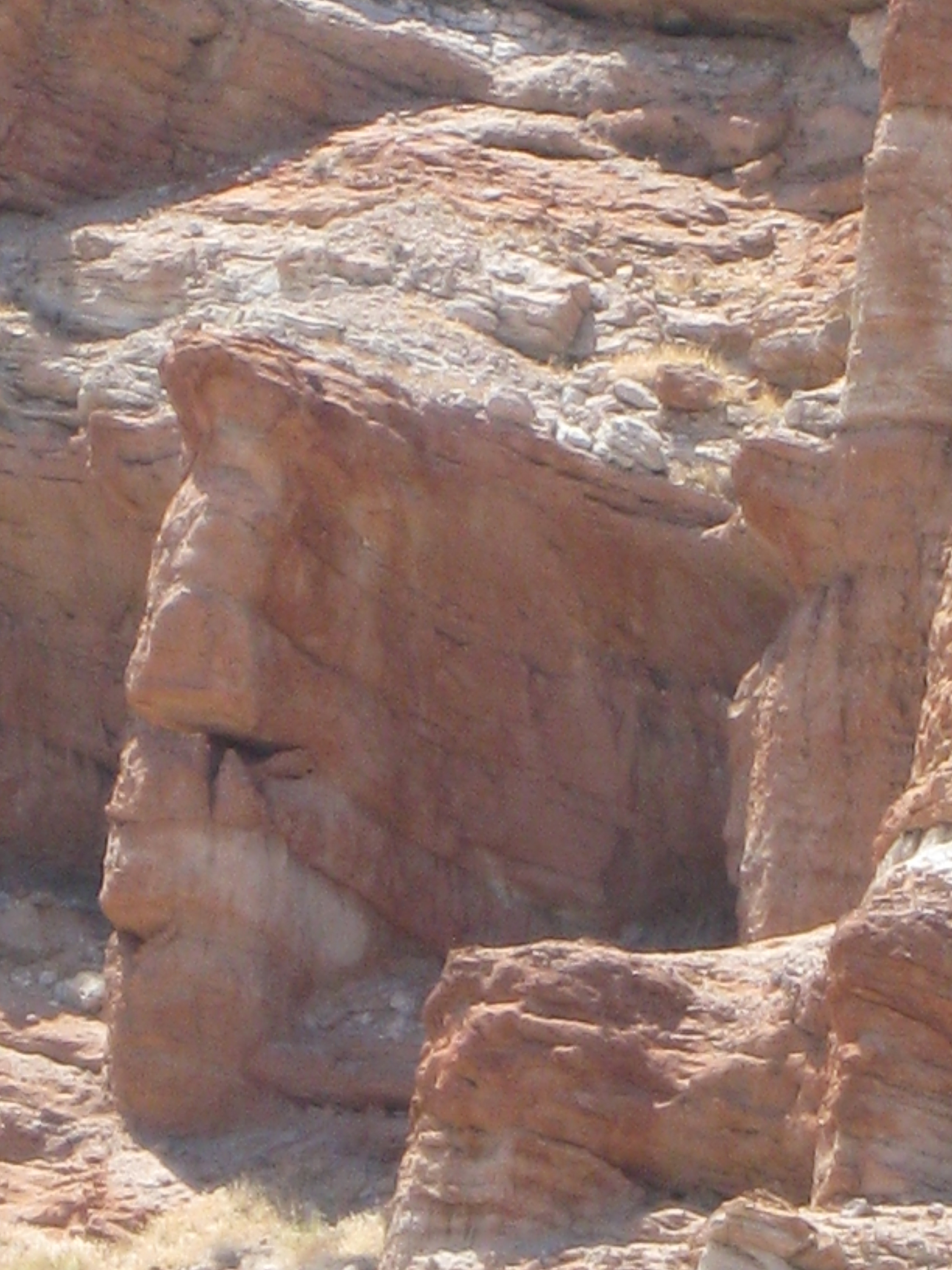 The rocks even make a face for you …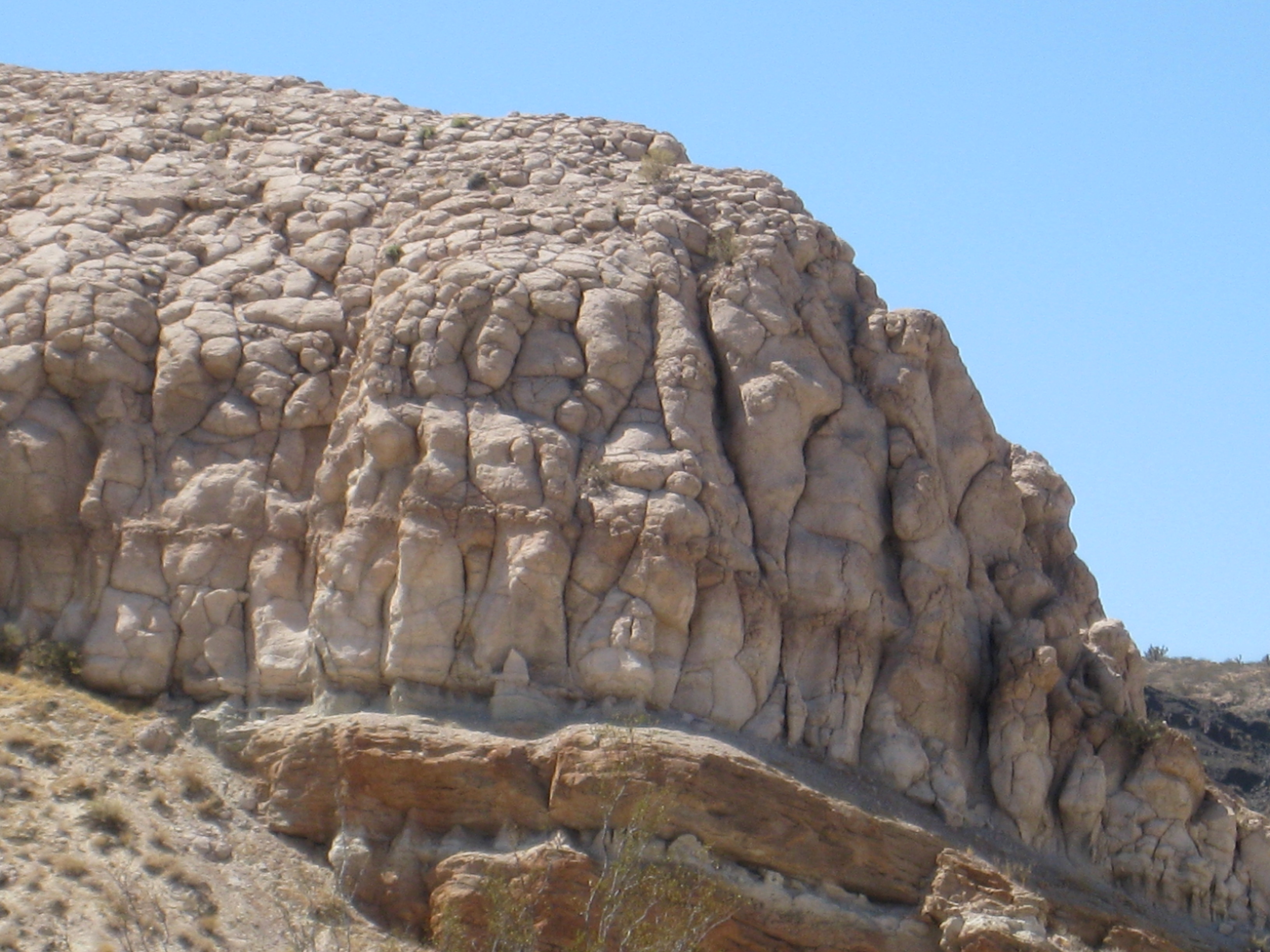 The park is located at the convergence of the southernmost tip of the Sierra Nevada  and the El Paso Range.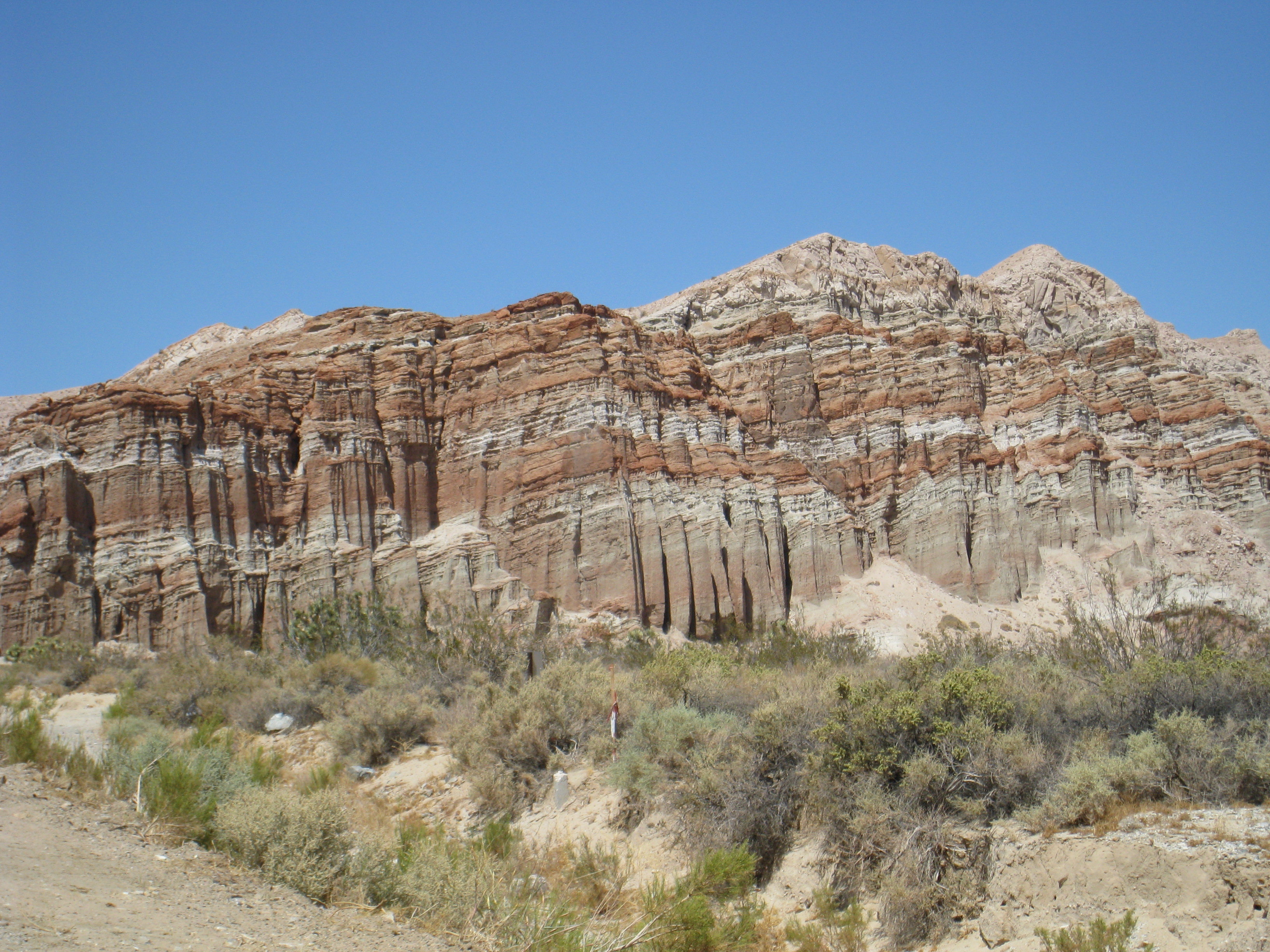 There is a campground here, but you will only want to visit it during the milder months in the spring or the fall.  There is a visitor's center, but it's only open sporadically.   Other than a pit toilet, there are no services here, period.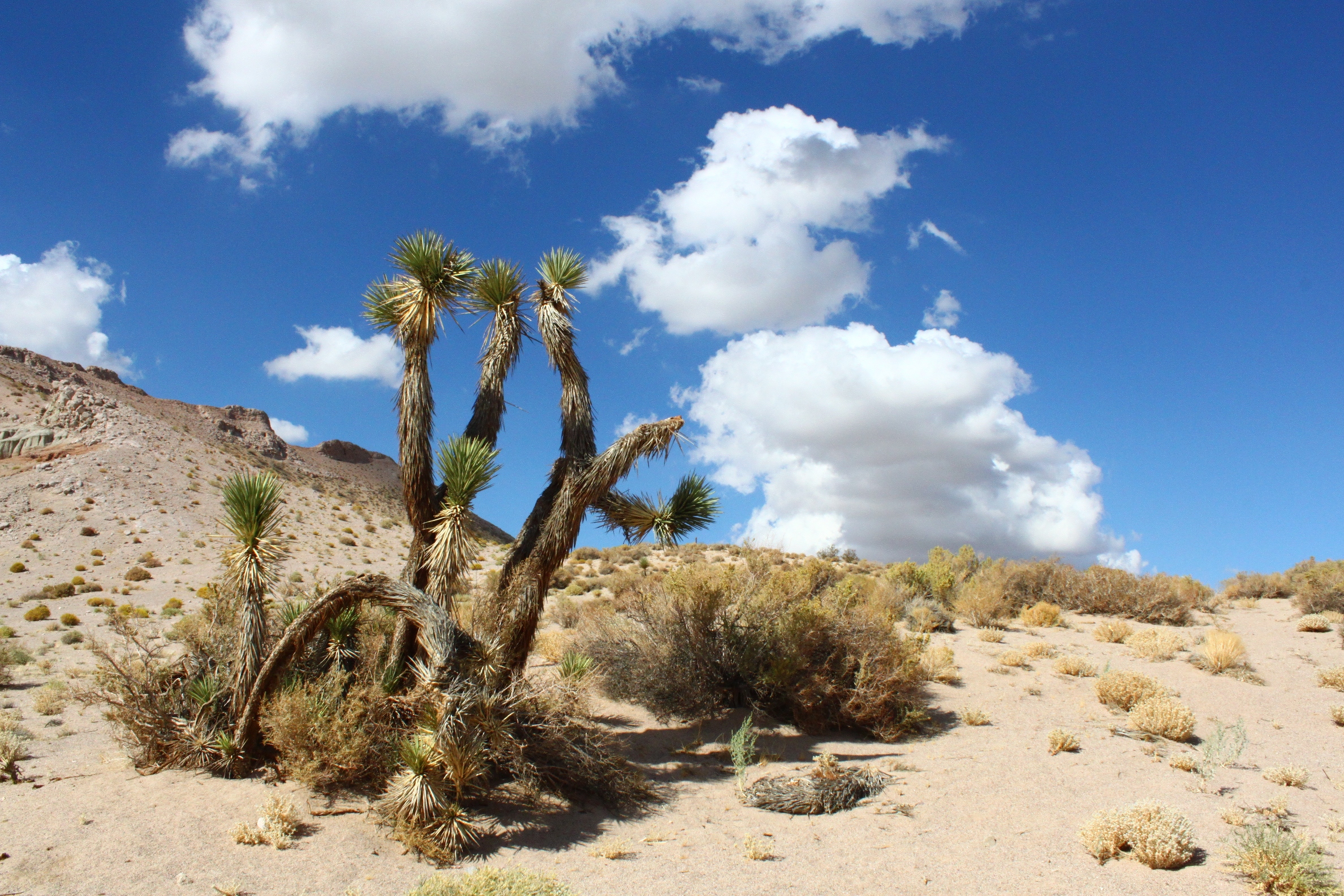 To be honest, Red Rock Canyon just seemed like an interesting road stop rest where the kids could get out of the car and climb around on the rocks.  However, I recently purchased the book, Geology Underfoot in Southern California, and have discovered that this is much more than a haven for off-road vehicles.  The book lists hikes and trails I hadn't known about:
1.  Heading north on SR-14, turn left onto Abbott Drive (it might be named "Midland Trail".  This is the old Red Rock Canyon highway, and it will intersect with SR-14 about 2.5 miles up the road.
2.  There is a short nature trail that starts at the campground road just beyond campsite 46.  It is an easy loop on a well-marked trail.  At marker 12, you can follow a trail south, up the ridge to a bench that overlooks the Mojave Desert and the Fremont Valley.
3.  The trail to Hager Canyon is about a mile loop, starting from a spacious parking spot at the south end of Abbott Drive.  There are several side canyons on the loop that you can check out along the way.
These are the easiest treks listed.  If you want to explore further, I suggest you purchase the book or borrow it from your local library.  It gives instructions on a half-day to day hike that sounds well worth taking, but you need the actual book for directions.  There are also some hikes that are listed on the park's official website.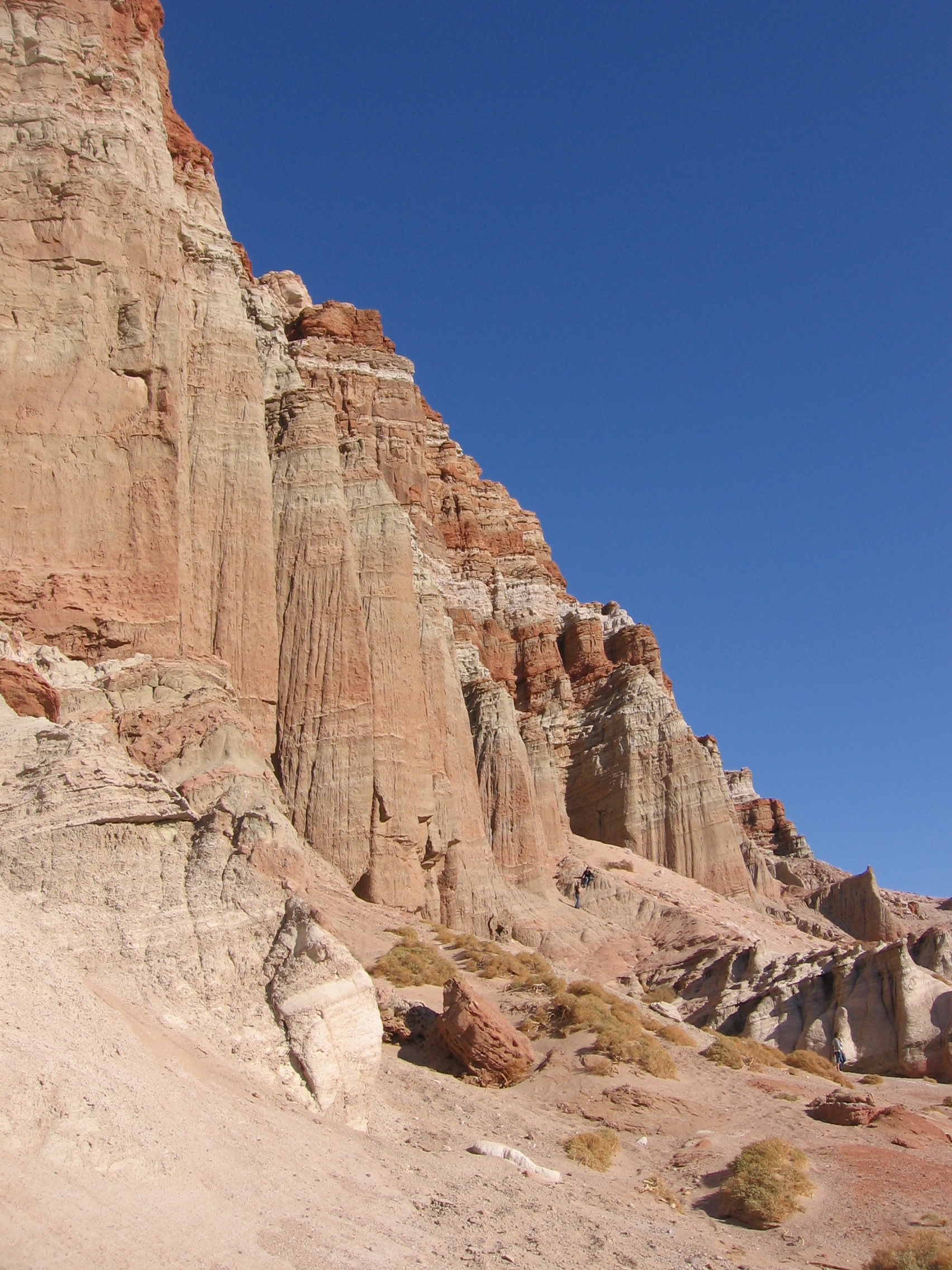 Here's where to find more information about Red Rock Canyon State Park online:
And here is the Google map: